What Is Powdered Vanilla?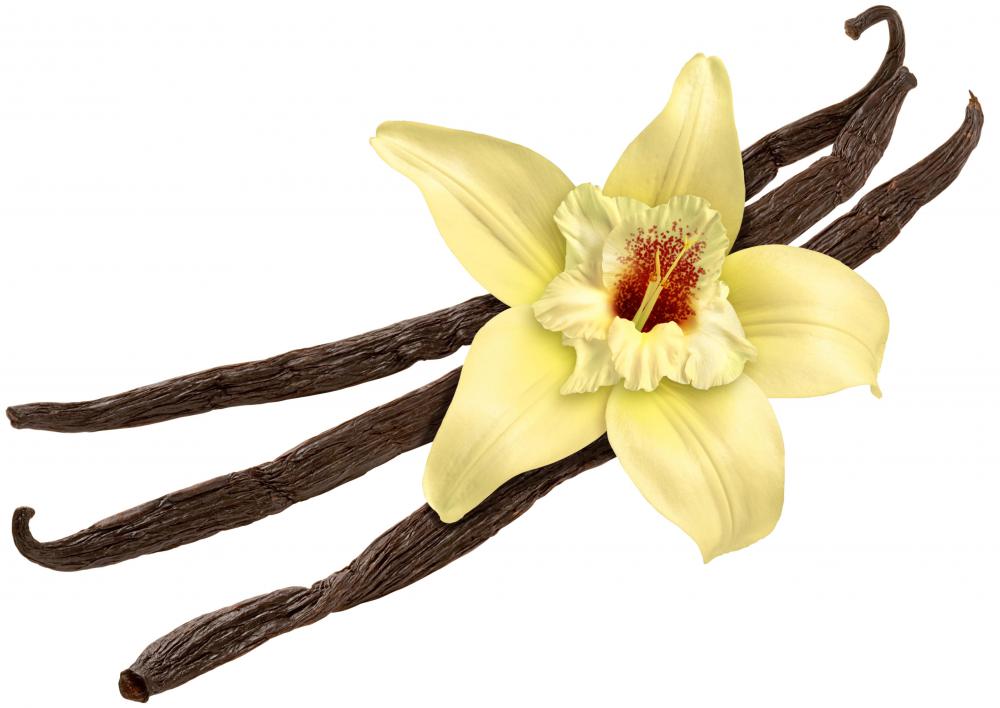 Powdered vanilla is obtained by grinding dried vanilla beans. It can be used in all types of foods where other forms of the vanilla bean are commonly used. This includes baked goods, desserts, and many hot drinks. A few benefits of powdered vanilla is that it does not contain additional ingredients that alter the taste, nor does the powder change the color of the food.
The vanilla bean is a fruit that is commercially grown in the tropical regions of the world. The orchid flowers are commonly hand pollinated in order to ensure a large crop, as they do not remain open long enough for the bees and hummingbirds to pollinate them in time. The average bean is about 8 inches (20 centimeters) long and is handpicked while it is still green. Thereafter, the vanilla beans are allowed to dry and age in order to obtain a rich aroma and vanilla flavor. Once completely dried, the flavorful beans are ground into a fine vanilla powder that can be used in many types of foods.
There are two different forms of powdered vanilla on the market. One form often contains synthetic extracts, or it is sweetened with sugars. Due to the sweetness, this form is often used in desserts, as well as for flavoring many hot or cold drinks. The other form of powdered vanilla is a pure form that does not contain any additional ingredients, such as alcohol, which is used in vanilla extracts. It is suitable for all types of baking, hot or cold drinks, and many desserts because it can be beaten with egg whites or mixed with dry or wet ingredients.
An advantage to using powdered vanilla is that it does not change the color of the food. Therefore, the powder is a perfect substitute for use in vanilla milk, whipping creams, and icing sugars. When used in hot drinks, powdered vanilla is able to retain its flavor as it does not contain any alcohol, which causes the vanilla flavor to evaporate.
Because of its rarity, powdered vanilla is normally not available in most grocery stores. Instead, it can be purchased at specialty stores or online. One can also purchase whole vanilla beans and grind them up into a fine powder with a coffee grinder. In order to do this, it is essential for the beans to be dried completely. Powdered vanilla should be stored in an airtight container in a cool and dry place.
By: rimglow

Powdered vanilla is made by grinding dried vanilla beans.

By: Orlando Bellini

Powdered vanilla can be added to all kinds of drinks and foods.