What Is Polymer Clay Jewelry?
Polymer clay jewelry is crafted from an easy to work plasticized material that contains no true clay minerals. This soft and pliable material is composed of polyvinyl chloride in a plasticized base, making it a durable material for jewelry. Polymer clay comes in a broad range of colors that can be blended to make custom colors for unique jewelry creations. This versatile product can be sculpted, molded or combined with other elements to form beads, pendants, bracelets and earrings. It is fired at very low temperatures, making it a popular material for do-it-yourself jewelry artisans.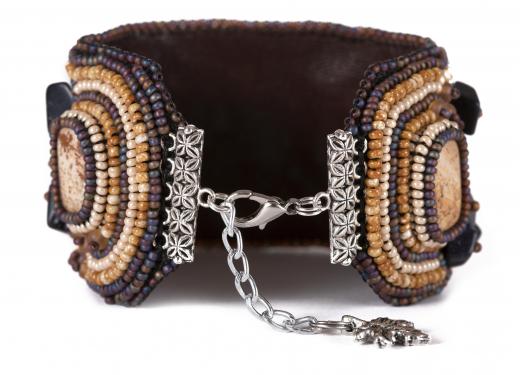 Beads were one of the earliest polymer clay crafts. Intricate beads made of polymer clay canes resemble complex handmade beads made from glass canes but are much easier to create. The desired pattern is crafted from multiple colors of clay in a log-shaped cane. This cane is then rolled out until it is the diameter of the desired beads and cut. Holes are made in the polymer clay beads before firing so they will be ready for stringing.
The cane technique can be used to make detailed pendants, earrings or brooches in addition to beads. Each piece cut from the cane will be identical, so matching jewelry elements are easy to create. The versatility of this material makes working with polymer clay popular with craftsmen who create handmade jewelry. Beginners might use molding techniques, while advanced crafters combine canes, sculpting and other techniques. Imaginative craftsmen continue to devise new methods of working with the material.
Polymer clay jewelry artisans frequently combine other elements with the clay. Some texturize the clay by adding sand, while others add metal components, glass beads or seashells before firing. Designs are stamped into the clay, sculpted or created using different color clays. Versatile polymer clay jewelry can be contemporary and bold, intricate and reminiscent of detailed Victorian style jewelry, and is limited only by the crafter's imagination.
Finishes on polymer clay jewelry vary depending on the effect the artisan wants to achieve. Most brands of polymer clay have a natural matte finish. Glossy or satin finish glazes can be applied to the fired polymer clay jewelry to help intensify the color and sheen. Buffing or sanding with fine grit sandpaper or steel wool also creates a shinier finish. Special paints can be used to add detail or highlights to parts of the jewelry.


By: cosma

Polymer clay can be turned into ropes, then cut into beads and fired for jewelry making.

By: Sergey Goruppa

Polymer beads may be used in the creation of artisan jewelry.

By: kachergina

Beads can be made in almost any color, thanks to the variety of colors and mixing ability of polymer clay.

By: Monkey Business

Polymer clay comes in a broad range of colors that can be blended to make custom colors for unique jewelry creations.