A ploye is a traditional pancake made from buckwheat which originated in the Madwaska region of New Brunswick, Canada, a predominantly French-speaking area, and Northern Maine in the US. It is a versatile food that is eaten as a meal or with any meal of the day as the starch or substitute for bread. Traditional ploye recipes, essentially quite simple, have been handed down from generation to generation in the region, many with "secret ingredients" known only to that family.
Buckwheat is gluten-free because it is not actually a grain. The flour is milled from the fruit of the buckwheat, which resembles a beech nut. It has a short growing season, making it a perfect crop for farmers in the area it originated, due to the short summer season. Traditional ploye recipes resemble that of a pancake mix and generally contain buckwheat flour, maize flour, baking powder, water and salt.
The batter for ploye is thin, allowing it to make a crepe-like pancake when cooked. The ploye is cooked on a very hot skillet and during the cooking process air holes are formed. It is not traditionally turned over in the pan and is considered cooked when the top is dry. They generally have a distinctive yellow-green color once cooked.
Traditionally the ploye was eaten with every meal, either folded over or rolled up. For breakfast it was served with cretons, a traditional spicy pork meat spread. For lunch it was served as a side with butter, instead of bread, to accompany chicken stew or the like. For supper it was served as a dessert with generous lashings of molasses or maple syrup. Nowadays, with ready access to a wide range of breads and pastries, it is no longer served with each meal but is still a popular food in the area for both locals and tourists.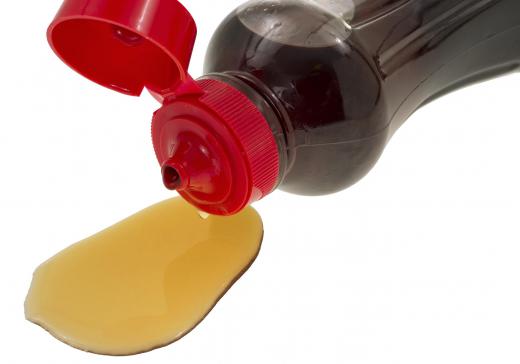 Every August the Annual Ploye Festival takes place in Maine. It is a weekend of family entertainment, food, and the highlight - the making of the world's largest ploye. This is made in an enormous skillet, 12 feet (3.66 m) in diameter, over an enormous coal fire, and requires the help of about five people to carry the mix and four to spread it out once it's poured on the skillet. Once cooked, it is divided into smaller pieces and eaten by festival goers.
AS FEATURED ON:
AS FEATURED ON:

By: Vidady

Buckwheat does not contain any gluten.

By: Bert Folsom

Ploye was traditionally served with maple syrup.

By: yuliakotina

Ploye is made from milled buckwheat.