What is Permanent Hair Dye?
Permanent hair dye is long-lasting dye, that when applied to the hair, will last up to eight weeks. Men and women use this hair dye to change the color of their hair. Colorists often recommend permanent hair dye for people who want to color stubborn gray hair because the dye fully covers the gray and lasts longer.
Kits that contain permanent hair dye have two separate bottles that must be mixed to make the dye. One bottle is the color blend formula that contains different ingredients including the color pigment and ammonium hydroxide. The other bottle is the color blend activator, which contains hydrogen peroxide. The individual has to mix the color blend formula and color activator together, apply it on the hair and allow it to dry for almost an hour before washing it out.
The solution that makes up the permanent dye can cause skin irritation if someone is allergic to it. Stylists recommend that before the entire amount of dye is applied, the individual should put a small amount on the hair and scalp to check for an allergic reaction. There are also gloves in the kit that should be worn when putting the hair dye on which will prevent the user from burning the skin.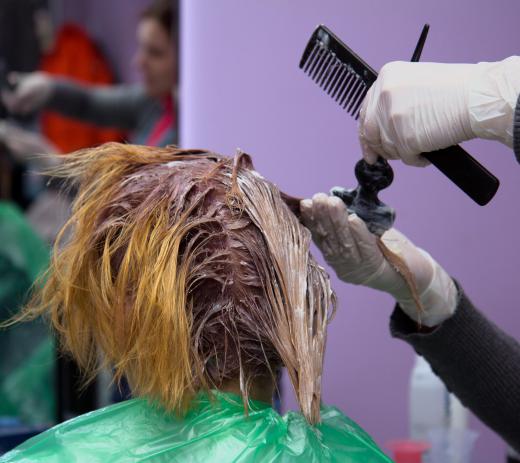 Most permanent hair dye comes in a variety of colors ranging from blonde to natural black. Users can find their natural shade if they want something subtle or they can try something completely different. People who are coloring their hair also have to get the right tone for their skin and hair and should look for boxes that include the color tone as well. The term "tone" when referring to dye means warm shades, which add light to the hair, or cool shades, which darken hair. There are also neutral shades to soften the hair's natural look if someone does not want to alter the color.
Since permanent hair dye will last at least six to eight weeks before starting to fade, it is necessary to to select the right color. Occasionally, people may decide the hair dye is too dark and they want to change it. In order to do this, the person will most likely need to go to a professional stylist who can use a chemical to remove the dye. This is only performed for hair color that is too dark and can make the person's hair very dry.
AS FEATURED ON:
AS FEATURED ON:

By: Tim

A hair dyeing kit.

By: eillen1981

Permanent hair dye lasts up to eight weeks.

By: esp2k

Permanent hair color won't wash out.

By: steinerpicture

When dying hair, it's recommended to wear gloves to prevent staining the hands.

By: Valua Vitaly

Permanent hair dye is preferred for covering up gray hairs.