What Is Organic Sunscreen?
Organic sunscreen is a type of sunscreen typically made with all-natural or non-toxic ingredients. Non-organic sunscreens usually contain chemical ingredients that are absorbed by the skin, causing some concern these ingredients could present a health hazard with long-term use. Organic sunscreens typically contain barrier-type mineral ingredients, such as titanium dioxide or zinc oxide, that stop UVA and UVB rays from reaching the skin. Recent advancements in nano technology allow organic sunscreen manufacturers to create mineral-barrier sunscreens that are thin and appear transparent when applied to the skin. The general ingredients in organic sunscreen are typically non-toxic, biodegradable, and friendly to animals.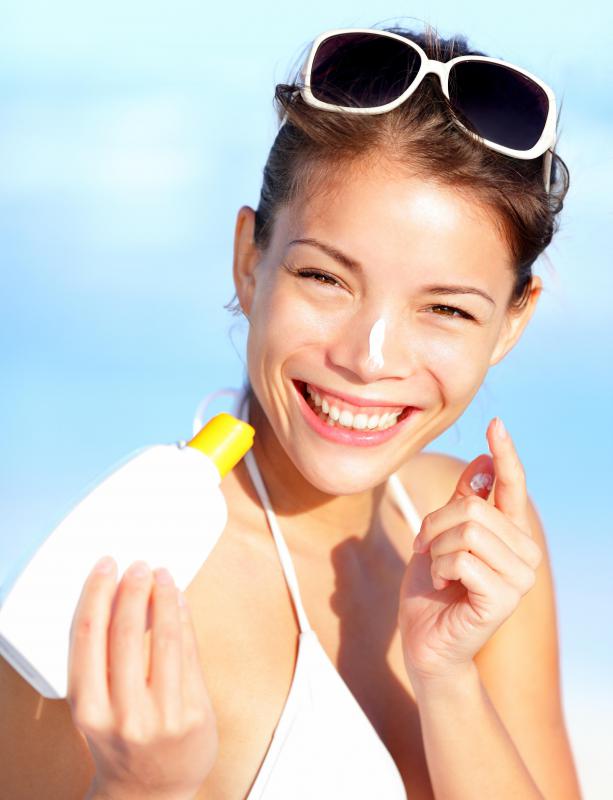 Excessive exposure to the sun's rays can lead to accelerated aging, skin damage, and cancer, but many people are concerned that the chemical ingredients in traditionally manufactured sunscreens could also contribute to severe health problems with long-term use. Organic sunscreens offer an alternative for those concerned about the possibility of toxic chemical absorption from traditional sun creams. Organic sunscreen almost always contains a combination of titanium dioxide and zinc oxide, two minerals that, when applied to the skin, create a barrier against the sun's rays. These minerals are generally considered safer than chemical sunscreen ingredients. They can be found in most conventionally manufactured sunscreens and in sun-protective cosmetics, as well as in organic or natural sunscreen.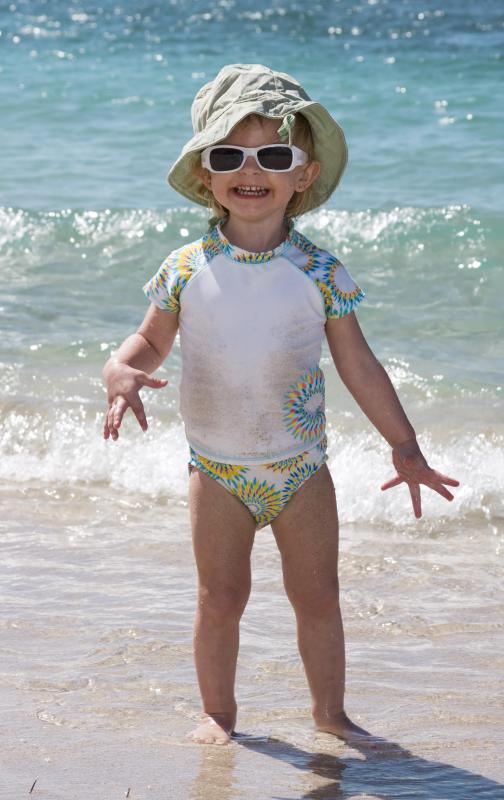 Most organic sunscreen products contain other ingredients, often plant extracts considered beneficial for skin health. Coconut oil, lavender and shea butter are common ingredients in natural sunscreen. In many cases, these additional ingredients also come from organic sources.
Organic sunscreen typically provides adequate protection against UVA and UVB radiation, especially when applied repeatedly during extended periods of sun exposure. These sunscreens don't typically absorb into the skin, so they can rub off onto clothing and objects. Though many organic sunscreen products are designed and marketed to be water resistant, almost all of them will rinse away to some extent in the water, and should generally be re-applied after swimming or excessive perspiration.
Some people choose organic sunscreens because they are concerned about the toxicity of traditional sunblocks to fish and other aquatic life. All-natural sunscreen products are considered safer for marine and aquatic ecosystems because their ingredients are generally biodegradable and non-toxic. Many of these all-natural sunscreen products are touted as perfectly safe even when ingested, and are often considered a good sun protection choice for babies and small children.
Organic sunscreen can be less toxic around the face and neck.

Regularly applying sunscreen will help keep skin looking younger longer.

Young children can benefit from wearing organic sunscreen, because it doesn't contain harsh chemicals.

The Sun is the source of UVA and UVB rays, which can damage skin.

Organic sunscreen contains titanium dioxide and zinc oxide, two minerals that create a barrier against the sun's rays.