What is Organic Spirulina?
Organic spirulina is a nutritional supplement made from spirulina, a microalgae rich in vitamins, minerals and essential amino acids. Spirulina has enjoyed recent acclaim as a "superfood," due to its high nutritional value. Organic spirulina is produced without the use of pesticides or chemicals, and the supplements commonly are available in powder, pill or capsule form.
Organic spirulina typically contains a protein content of about 60%, making it very high in protein. One tablespoon of organic spirulina powder contains about four grams of protein—a large egg contains about six grams. Spirulina also contains large amounts of beta carotene, vitamin B12, iron, and it provides important trace minerals, such as manganese, copper and potassium. Spirulina is one of the few vegetable foods that contain all eight of the essential amino acids the human body needs to manufacture protein, making it a popular supplement among vegans and vegetarians.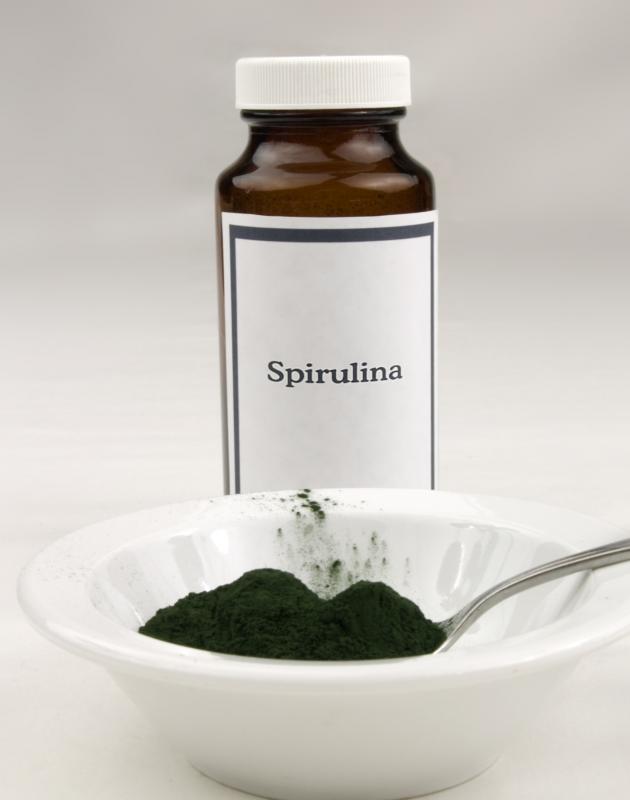 Spirulina doesn't just provide protein, vitamins and minerals. It also contains phycocyanin, a powerful antioxidant that can protect against cancer; calcium spirolan, a polysaccharide with antiviral properties; chlorophyll, which helps detoxify the body; and mucopolysaccharides, which can help prevent arteriosclerosis and heart disease.
Spirulina's many health benefits may include cardiovascular and immune support, increased digestive function and central nervous system support. Regular spirulina supplementation may help lower the risk of cancer, soothe anxiety and promote feelings of well-being; it may also help maintain a healthy body weight. Spirulina can sometimes ease the symptoms of seasonal allergies and other respiratory ailments. It can also stimulate the production of red and white blood cells and may help detoxify the body. The microalgae is generally easy to digest, and users have reported increased energy levels.
Spirulina contains a small amount of saturated fat, but it's high in omega-3 and omega-6 fatty acids. Spirulina is considered a high-sodium food, so those on low-sodium diets may want to avoid it.
Organic spirulina is typically available in capsule and pill form, but organic spirulina powder can easily be added to a number of recipes. The organic variety is the highest quality of spirulina available, since it's grown and harvested under strict guidelines in an environment free of toxins. Spirulina must be grown in clean water, since it will absorb any pollutants or heavy metals present in the water. Organic Hawaiian spirulina is one of the most popular varieties available, since the waters near Hawaii are clean and free of pollutants, and the region enjoys the tropical weather and consistent sunshine that spirulina algae needs to grow. Consumers should look for the Certified Organic label on spirulina supplements, since this label ensures that the supplement meets the strict regulations that normally govern the organic foods industry.