What Is Operative Neurosurgery?
Operative neurosurgery is a medical term that describes the different surgical techniques a neurosurgeon may use in the treatment of various brain, spinal cord, and peripheral nerve disorders. Most neurosurgeons continue to update their knowledge of new operative neurosurgery techniques on a frequent basis. This information may be shared through publication in scientific journals or through a presentation at a neurosurgical symposium.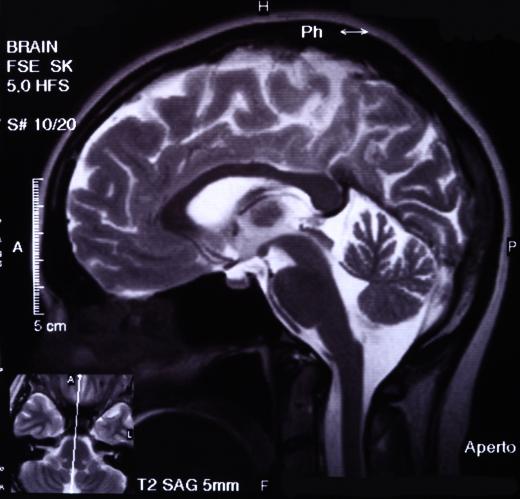 Neurosurgery is used to treat both birth defects and peripheral nerve abnormalities. Both benign and malignant tumors located in the brain or spinal cord may be removed through a surgical procedure. Sudden trauma to the brain, spinal cord, and peripheral nerves can be repaired with emergency surgery. Genetic brain and spinal cord defects are often corrected by a neurosurgeon.
Before many operative neurosurgery procedures, the surgeon may require a magnetic resonance imaging (MRI) screening to be performed. The images produced from the MRI can be used as a guideline during the operation. Doppler imaging may be used to visualize the blood flow through the carotid arteries and throughout the brain, ensuring adequate blood flow to the tissues during the procedure. Complete scans of the brain and spinal cord enable the neurosurgeon to create a surgical treatment plan to restore normal neurological function.
Neurosurgeons may use several different methods to correct a neurosurgical disorder. A carbon dioxide laser can be used to excise a tumor. The fluid in the brain and spinal cord, called cerebrospinal spinal fluid (CSF), absorbs this type of laser very efficiently. An ultrasonic aspirator may be used to remove fluid from a cyst within the brain or spinal cord, or to aspirate excess CSF during a surgical procedure.
Operative neurosurgery may also be utilized to treat a variety of medical conditions. A blockage in the carotid artery leading to the brain may cause a stroke to occur. The blocked artery can be surgically repaired to restore blood flow to the brain and possibly prevent a stroke from happening. If the artery is too narrow to allow for adequate blood flow to the brain, such as with carotid artery stenosis, the neurosurgeon may recommend operative neurosurgery to widen the diameter of the artery.
Emergency operative neurosurgery is often necessary to treat a brain aneurysm, which is a burst blood vessel within the brain. An operation to repair the broken blood vessel may be critical to the recovery of the patient. The advanced neurosurgery techniques used by the surgeon can save a person's life and help avoid any permanent life-altering changes.


By: Tryfonov

Neurosurgeons typically order magnetic resonance imaging (MRI) and other tests of the brain and spinal cord before ordering any invasive procedures.

By: Mikhail Basov

Neuroimaging can be used to diagnose a number of brain and central nervous system issues, as well as to assist with treatment.