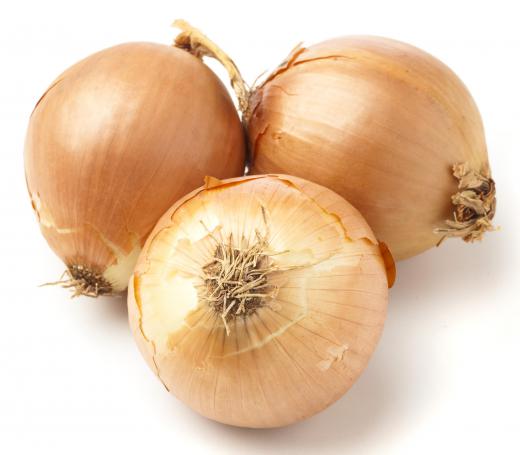 Onion soup can be made in a number of different ways, though it typically begins with onions that are caramelized. Chicken and beef stock are often used to make the broth, usually with either white or red wine added to complete the soup. A large piece of toasted bread is typically served in the soup, which provides some contrasting flavor and gives additional texture as it soaks up the broth during eating. Onion soup is usually topped with cheese, often Gruyere, and placed under a broiler to melt and brown the cheese.
The namesake ingredient in onion soup typically serves as the beginning for this dish, though stock or broth might be made days or weeks ahead of time for use within it. Just about any type of onion can be used to make it, though sweeter varieties like yellow and red are popular due to their richer flavor. The onions are cut up into fairly thin slices, often half-moon shapes, and cooked in a pot with some butter. Properly caramelizing these onions can require half an hour or even a full hour of cooking, to ensure they take on a brown appearance and sweetness that lends the onion soup a deep flavor.
These onions are then combined with broth or stock to form the base of the onion soup. Both chicken and beef stock work well; some chefs prefer to use only one of them, while others include both together in a single recipe. Additional flavors, such as apple cider, wine, and various herbs are all added and this is cooked until the onion soup comes to the proper consistency and flavor. Either red or white wine can be used, and is usually based on personal preference.
Serving onion soup is often a primary element in its preparation, especially in traditional services where it is spooned into small oven-safe crocks. A large piece of toasted bread is placed onto the top of the soup, which begins to absorb the rich flavor of the broth. This is topped with grated or shredded cheese, usually Gruyere or Swiss, and placed in an oven under a broiler. The cheese melts and browns over the onion soup and the crock that it is, and it is served directly from the oven. Eating the soup usually consists of getting some of the bread and cheese in each bite with the broth and onions, providing a wide range of flavors and textures in every spoonful.


Onions.

Thick slice of Gruyere cheese, which is often used to top onion soup.

By: uckyo

French onion soup is finished with cheese and crusty bread.

By: fkruger

Onion soup can be made using beef, chicken or vegetable stock.