Okonomiyaki is a large, grilled Japanese pancake with various fillings, toppings, and condiments. Fillings may include a combination of chopped vegetables, meats, or seafood. Pickled red ginger and dried bonito flakes are popular toppings. The most common condiments are mayonnaise and a savory, brown okonomiyaki sauce.
The word "okonomiyaki" means "grilled as you like it." In an okonomiyaki restaurant, the menu sometimes offers a list of specialty combinations. Or, it may offer a list of ingredients from which diners can create their own combinations.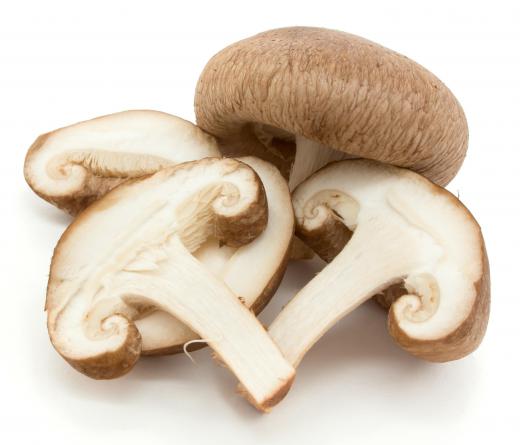 This dish is popular throughout Japan—however, it is considered a regional specialty in the city of Osaka. The downtown shopping street, called Dotonbori, is lined with okonomiyaki restaurants, where grill cooks prepare these tasty pancakes one after another all day long and into the late evening. In some restaurants, the griddles are installed in the center of each dining table for tableside preparation.
Okonomiyaki batter is a basic recipe of wheat flour, eggs, and water. Instead of water, it may be mixed with dashi, a broth made with sea kelp and dried fish flakes. The batter may be seasoned with soy sauce and mirin.
A traditional okonomiyaki pancake begins with a large mound of finely-shredded white cabbage. The batter may be mixed in with the cabbage, or it may be ladled onto the grill and topped with the shredded cabbage. Then the various meat, seafood, and vegetable fillings are added. The pancake is browned on one side, sometimes under a domed lid, and then it is flipped over to brown on the other side.
Meat fillings might include pork, beef, or chicken. Shrimp, scallops, and squid are popular seafood choices. Vegetables may include sliced mushrooms, shredded carrots, or diced green peppers. Chopped scallions and minced garlic may also be added for savory flavor.
Two of the most popular toppings for okonomiyaki are beni shoga and katsuo. Beni shoga is bright red, pickled ginger chopped into fine strips. Katsuo is dried, smoked bonito fish shaved paper-thin. Okonomiyaki may also be topped with yakisoba noodles.
Popular condiments for okonomiyaki include a brand of spicy Japanese mayonnaise called Kewpie, and a rich, brown sauce that resembles American steak sauce. When the pancake has been browned on both sides, the two condiments are drizzled in a spiral over the top of the pancake. Much like pizza, the okonomiyaki is then sliced into wedges—in fact, okonomiyaki is sometimes called Japanese pizza.
AS FEATURED ON:
AS FEATURED ON:

By: Chris leachman

Shiitake mushrooms are a popular filling for okonomiyaki.

By: uckyo

Mayonnaise is a common filling for an okonomiyaki.

By: hiphoto39

Squid is a popular ingredient in okonomiyaki.

By: Nejron Photo

Diners may be able to choose from a list of ingredients to make their own combinations.

By: andriigorulko

Eggs are used to make the batter for okonomiyaki.

By: m.u.ozmen

Okonomiyaki batter is made using wheat flour.