What is Non-Gluten Flour?
Non-gluten flour is simply flour made without any gluten. Gluten is a protein found in a number of grains, most notably in wheat, spelt, rye, and barley. It is the substance that gives dough its strength and elasticity, making the dough rise, and keeping baked goods from crumbling.
Gluten-free diets are becoming more common as an increasing number of people discover they are sensitive or allergic to this protein. People with celiac disease, an autoimmune disorder, must also follow a strict, gluten-free diet or risk serious health problems. Researchers are even finding that avoiding gluten may be beneficial to autistic children.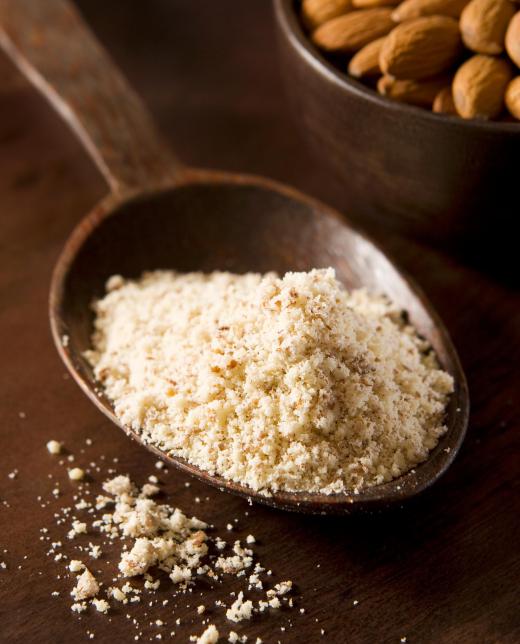 In order for people on a gluten-free diet to cook appetizing meals, they often need to use a good non-gluten flour. A few popular alternatives include brown and white rice flour, coconut flour, almond four, potato flour, and chickpea or garbanzo flour.
Perhaps the most popular is rice flour. It acts similar to wheat flour in behavior and is capable of absorbing and thickening liquids, but lacks any binding ability. Brown rice flour contains more protein than white, and adds a pleasant bulk to baked goods. It also makes a decent roux for gumbos and sauces. Cooks should select the finest grind rice flour for baking, because the courser grinds make foods feel very gritty.
Coconut flour is made up of ground fiber from coconut meat. High in protein and dietary fiber, it can be used in recipes for quick breads and muffins with pretty good results. Because coconut flour contains natural sugars from the meat, it is a great choice to use in dessert recipes. Another good non-gluten flour for desserts is almond flour, which is made of ground up almonds. With its slightly nutty flavor, it works especially well in brownie and cookie recipes.
Potato flour is a fine-textured flour made from cooked, dried, and ground potatoes. It makes a good thickener for gravies and sauces, and can be used successfully in baked goods like pancakes, waffles, and breads. This flour does make the final product heavier, however.
Chickpea flour, or garbanzo flour, is another common non-gluten flour that is often used in Indian, Mediterranean, and Middle Eastern cuisine. The resulting product is similar in texture to items made with wheat flour, but many people find that it causes flatulence.
Non-gluten flours are surprisingly versatile. Baked goods made solely with without gluten may have a texture that is dense and crumbly, but many people feel it is worth it for the additional nutritional value and more exotic flavor.
AS FEATURED ON:
AS FEATURED ON:

By: Olga Lyubkin

Almond flour contains no gluten.

By: kjekol

Coconut flour is a popular type of non-gluten flour.

By: mustafa_dastekin

Non-gluten flour can be used in brownie recipes.

By: Stefano Pareschi

Non-gluten flour can be used in baking cookies.

By: Marek

Non-gluten flour can be used to make gluten-free bread.

By: anjelagr

Potato flour is sometimes used as gluten-free alternative to wheat and other grains that contain gluten.