Natural mascara is a beauty product that defines and elongates the eyelashes with plant based and natural ingredients. It is also be called organic mascara. Mascara is a common part of the typical make up regimen, like eye shadow, lipstick or lip gloss, blush, and foundation. It is available online and in cosmetics stores.
A number of companies make natural mascara, but not all subscribe to the same definition of "natural." In some cases, a company calls mascara natural if is has a reduced level of synthetic ingredients even though it still contains some chemicals in the formula. Other companies will only use all natural products in their mascara.
Typically, natural mascara does not contain petroleum based products, paraben chemicals, fragrances, or other synthetic ingredients. Instead, plant extracts and beeswax are used. Often, companies which are conscious of their ingredients are also conscious of their practices and do not test on animals.
Natural mascaras claim to cause fewer allergic reactions and less irritation to the eyes than synthetic mascaras. In truth, anything, even a natural product, can be an allergen. Although natural mascaras cannot promise not to cause an allergic reaction, many users who are allergic to other mascaras find that natural mascaras do not cause adverse effects to their eyes and eyelids.
Another advantage of natural mascaras is that they are often very light and silky in comparison to synthetic mascaras. Even with multiple applications of the product, natural mascara typically remains light. This is an excellent feature for all consumers, especially contact lens wearers.
Generally, natural mascaras offer features similar to those of synthetic mascaras, including various colors, and non-clumping, thickening, and lengthening formulas. The exception is the waterproof formula, which is difficult to achieve without using synthetic materials. Typically, natural mascaras are water resistant, but not waterproof. Another common disadvantage of natural mascara is that it takes longer to dry than synthetic mascara.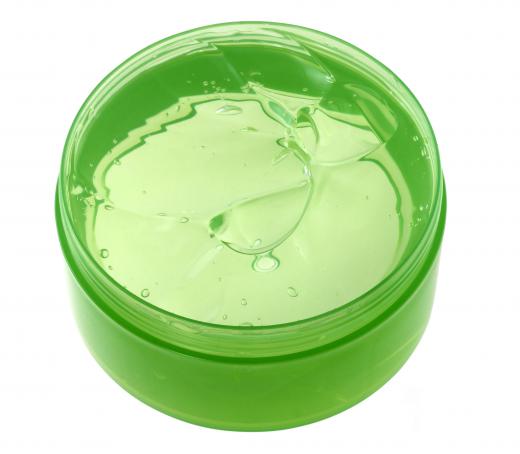 Some recipes for homemade natural mascara are available. There is no better way to ensure that all the ingredients are natural than to make the mascara yourself. One method of making homemade mascara is to combine activated charcoal, which is available in capsule and loose form, with aloe vera gel. The gel gives the mascara its stiffness, and the charcoal supplies the coloring. A mascara wand is necessary for proper application.
Unlike store bought natural mascara, homemade mascara dries very quickly. This is both an advantage and a disadvantage. Although it dries quickly after application, it also dries out quickly. Even when stored in an airtight container, homemade mascara dries out within a few days. It is best to make it in small amounts on a regular basis.
AS FEATURED ON:
AS FEATURED ON:

A woman wearing natural mascara.

By: haveseen

A woman applying natural mascara to her eyelashes.

By: sassyphotos

Aloe vera gel can be used to make natural cosmetics.