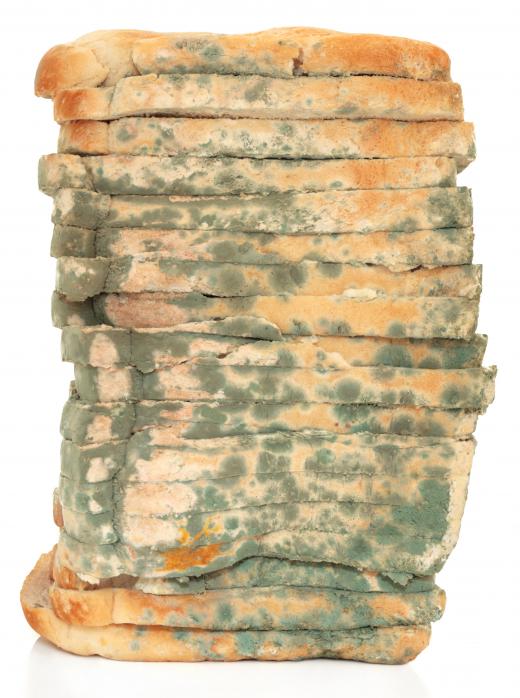 Mold testing is a procedure which is performed to look for signs of mold in a building. While mold testing cannot necessarily identify the species of mold present, or where it is located, it can be used to gather information about mold populations. Some environmental quality agencies will conduct mold testing by request, and people can also order testing through private labs, which will sometimes send out representatives and sometimes send out a test kit for people to collect samples with.
One of the important things to be aware with when conducting tests to look for mold is that mold is naturally present in all structures. Molds are very diverse, and not all of them are harmful. It would be extremely surprising to conduct a mold test and see no signs of mold, so when a test is positive, it does not necessarily mean that there is a problem. Mold tests also provide only a sampling of a particular point in time, which means that all of the molds present may not be identified, and if toxic molds are present, the mold testing will not determine whether or not they are emitting toxins.
Some mold testing is conducted with handheld sniffers which check for spores of specific molds in the air. These sniffers can be sensitized to detect particular mold genera or species, providing a quick assessment of the types of mold which may be present. Other testing involves collection of samples from areas where mold tends to grow, including samples from mold colonies which can be analyzed to determine what kind of mold is growing.
People sometimes request mold testing because they are convinced that molds are causing health problems, or because they plan to use the results of the testing to pursue legal action against someone else. Consumers should be aware that mold testing varies widely in scope and quality, and that it can be easy to waste a lot of money on testing for mold. If, for example, mold colonies are present in a home, tenants can document the colonies and ask their landlord to take action if the mold is growing because of something the landlord did, and they don't need to conduct mold testing to determine whether or not mold is present, since the mold is clearly visible.
If people detect the smell of mold or see a mold colony, they should track down the colony, eliminate it, and remove the source of moisture which is allowing the mold to grow. Mold testing in these situations is generally not necessary, unless the structure has a documented problem with toxic molds and there are concerns that special measures may need to be taken during cleanup to avoid inhaling mycotoxins or spreading spores by accident.


Moldy bread.

By: nito

An orange with mold on it.