What Is Mobile Video Advertising?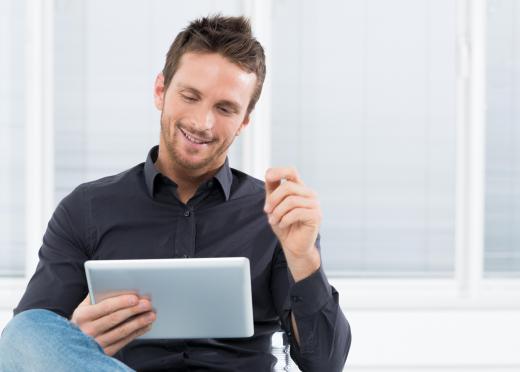 Mobile video advertising is a form of advertising specifically designed for and targeted at viewers using mobile devices. These types of advertisements, or ads, are usually developed as videos viewed by users of mobile phones and computer tablets. The nature of these ads is different from those developed for other types of media, such as print, the Internet, or film or television advertising. Mobile video advertising can come in a number of different forms and is usually connected to videos or other interactive media viewed for informative or entertainment purposes.
One of the key components of mobile video advertising is that it is developed specifically with the needs and usage habits of mobile device users in mind. This means that these ads are often created for easy viewing on cell phones, which have smaller screens than laptop or desktop computers. Effective development of mobile video advertising also tends to focus on any interactive aspects of different mobile devices. As technological features such as touch sensitive screens have become more popular and common, advertisers creating these ads have adapted to these developments and provide functionality with such features.
Mobile video advertising also typically takes advantage of the increasing popularity of video on the Internet and access to those videos through mobile devices. Such ads can occur before videos, usually as simple commercials that play before a requested video. This is often referred to as "pre-roll" and refers to any type of mobile video advertising that occurs prior to a video or other feature being made available for a user. Pre-roll ads can even be presented in games for mobile devices, loading ads between levels or prior to the game launching.
There are also "in-stream" ads that can be used in mobile video advertising, which refer to ads that occur during the viewing of a video. Depending on the layout of a video and how the ads have been created, these can be displayed in a number of different ways and may be distracting to the viewer. Such ads often occur at the top or bottom of a video, usually not directly over the video image itself, or as a small advertisement at the beginning of the actual video. Some of these in-stream ads used in mobile video advertising also have interactive functionality, allowing a user to select the ad to launch a new video or to redirect the device's browser to another site for that advertisement.


By: Rido

Mobile video advertising can be viewed by tablet users.

By: hurricane

Companies often design video advertising strategies based on the age and gender of mobile users.

By: Eugenio Marongiu

Mobile video advertising is designed for and targeted specifically toward consumers using their mobile devices.