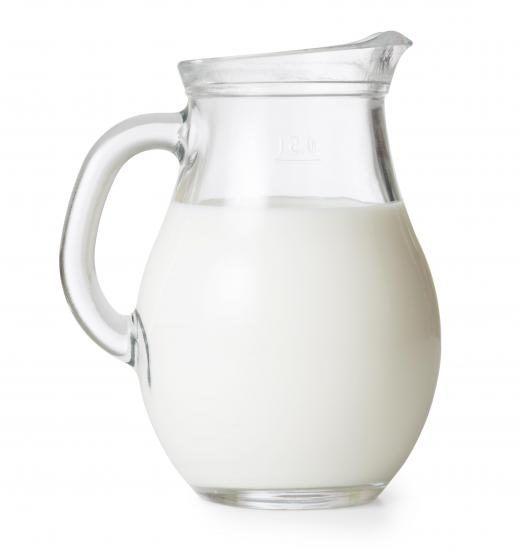 Dahi, or yogurt, represents a traditional dish in India, where it can be eaten plain or used for cooking different types of meals. One such dahi dish is mishti doi, which is sometimes known as mitha dahi. The mishti, or mitha prefix is an Indian term that means sweet or sweetened, and this dish can be literally translated as "sweet yogurt." Mishti doi is consumed both in Indian homes and from street vendors, particularly in the Calcutta region. While this yogurt dish may seem simple, it actually requires significant preparation time, leading many to buy it from grocers in an effort to save time.
Mishti doi comes in many variations, which can partially be attibuted to the various yogurt cultures that serve as the base ingredient in this dish. Versions made from cow's milk feature a yellow color, while those made from buffalo milk tend to be white. Both liquid and condensed versions of these milk products can be used depending on the recipe and personal preference. All mishti doi features a dense texture and glossy appearance when prepared correctly.
The process of preparing this sweet yogurt begins with heating milk on the stove or over an open flame. As the milk is heated, sugar is added to give the dish its characteristic sweetness. The milk is allowed to boil slowly, and may be reheated several times to give it the desired flavor and texture.
Next, yogurt or curds must be added to the sweetened milk and mixed thoroughly. This mixture is placed in a traditional clay or earthen pot, then allowed to cool overnight. The clay pot absorbs excess moisture, giving the mishti doi its dense texture. Some chefs may allow this product to sit even longer to fully develop before it is consumed as an after-dinner dessert.
In modern India and throughout the rest of the world, mishti doi is often purchased at convenience or grocery stores due to its long prep time. Some Indian expats may also make this dish in an oven rather than a stove top, then refrigerate it to prevent bacteria growth. This speeds up the cooking process, and eliminates the need to leave this dish out overnight to cool. Generally, changes to the cooking process result in changes in the texture and flavor of mishti doi.
Traditional mishti doi features a very sweet flavor, with hints of the tangy taste of yogurt mixed in. It is often very creamy when consumed, and may have tones of caramel depending on how the milk is prepared. Some recipes call for the addition of cardamon seeds for flavor, though this is largely a matter of personal preference.


By: Andrey Kuzmin

Milk is a main ingredient in mishti doi.

By: nenetus

Mishti Doi typically contains the same active cultures -- such as Lactobacillus bulgaricus and Streptococcus thermophilus -- that are found in conventional yogurts.