What is Mineral Foundation Makeup?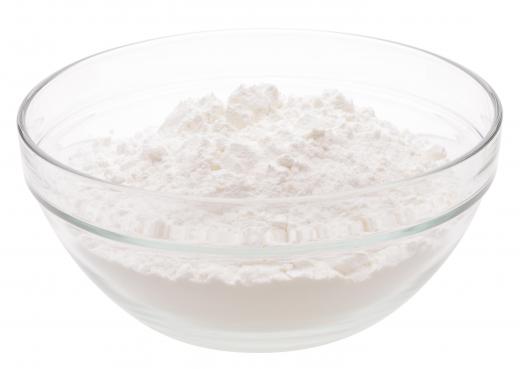 Mineral foundation makeup refers to foundations or base makeups that are usually powder and that are made up of ingredients that are mostly minerals and perhaps cornstarch. There are now many of these foundations on the market. They can range in function, quality, ingredients, price and customer satisfaction. The initial goal when this makeup first appeared in the 1970s was to eliminate some of the extra ingredients irritate skin like dyes, binding ingredients, and fragrances. The degree to which this goal has been met very much depends on brand, since some brands do contain minerals or other ingredients known to be irritating to the skin.
While women will want to read ingredient lists on mineral foundation makeup, they may also be interested in knowing how well these foundations work. There is much differing opinion on this subject. Some really think the foundations are superior and others complain they don't offer as much as is needed, may not work as well for darker skin tones, and aren't as suited to use on women's faces if they're trying to conceal wrinkles.
It may be important to restate that opinions differ, and it's easy to find claims that trend in the opposite direction. The best bet is to try the makeup and determine if it works. Visiting a store that sells one of the brands and having a makeup salesperson apply it would be a free alternative to buying several types and trying them out.
One thing that is arguably an issue with some forms of mineral foundation makeup is that advertising may be deceptive. Some brands use the terms "pure" or "only minerals" and these claims may not be fully truthful. There are makeups that have skin irritants that may be particularly unsuited for people with conditions like serious acne or rosacea. There's also a common belief that mineral makeup is cruelty-free, and this is untrue of virtually all brands. If the makeup itself was not tested on animals, the brushes may be made of rabbit's fur.
Another area of concern for many women is sun protection. In this area, most mineral makeups fair very poorly and provide only an SPF of 15. Doctors say this isn't a reason not to use mineral foundation makeup, but advise that patients use a stronger sunscreen underneath the base.
Buying mineral foundation makeup is usually only the tip of the iceberg in buying mineral products. Many companies have mineral blushes, eye shadow, finishing powders, and may have branched into creating things like lipstick, eyeliner and mascara. Others merely sell foundation as part of cosmetic lines that make other types of makeup, and they've clearly found a growing market for these powdered foundations.


By: Yuriy Afonkin

Cornstarch is a common ingredient in mineral makeup.

By: studiovespa

Mineral eyeshadow is a popular choice for people who want more natural makeup.

By: Subbotina Anna

Mineral makeup lines often include blush, as well as powdered foundation and eyeshadow.

By: Mikhail Malyugin

Some eyeshadows and eyeliners contain mineral compounds that can give a subtle sheen.

By: mikelaptev

Opinions differ as to whether or not mineral foundation makeup is effective.

By: Tanouchka

Mineral makeups generally only provide an SPF of 15 in regards to sun protection.

By: Axel Bueckert

Mineral foundation makeup may be used to cover vitiligo spots.