Milk toast is a traditional breakfast food in American cuisine. The meal consists of toasted bread served buttered, then dipped or covered in hot milk. Sugar or salt and pepper are commonly added to the dish. Raisins, cinnamon, maple syrup, and other flavorings may be added to taste.
During the late 19th and early 20th centuries, milk toast was a popular breakfast food. It was considered a comfort food due to its soothing warmth, and people also believed it was easy to digest, making it a common dish that was served to the elderly, infirm, and young children. It was also often served following a day of playing in the snow, rain, or general cold.
Modern versions of the food are still eaten by some families. Many people still serve the warm meal to their children when they are ill. The baked and dried product known as Rusk, available in stores, also resembles the food.
To make milk toast, a cook can begin by simmering 1 pint (570 milliliters) of milk in a pot. The milk should not be allowed to boil. The cook can then butter four slices of hot, fresh, toasted bread generously with any flavor of preferred butter or spread. A sweet butter will yield a sweeter-tasting breakfast. The buttered toast should be torn into bite-sized pieces and placed in a heat-resistant bowl.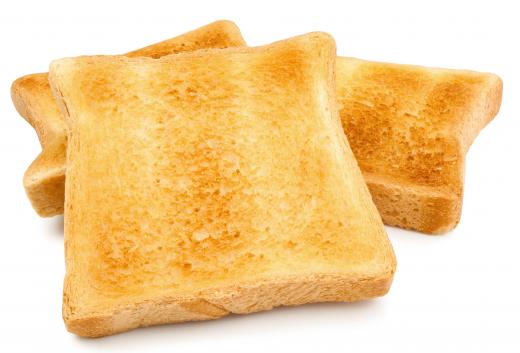 The cook can then pour the hot milk over the toasted bread, add salt and pepper to taste, and serve. For a sweeter variation, the salt and pepper can be skipped, and instead, the cook can add sugar. If adding cinnamon or sugar, the person making the dish should sprinkle both sides of the buttered toast with them before adding the milk. While other ingredients, such as raisins and vanilla, may be added, purists advise against making the recipe too complex, as it is intended to be a simple, soothing meal.
In Asia, milk toast is the name of a dessert. The treat is served in milk tea cafes across the continent, as well as in the United States. It is made from thick white toast covered with condensed milk, and it may also include honey or other sweeteners and dried fruit.
A related term, "milquetoast," is also an urban slang term for a person who is considered soft, bland, or a coward. It can also refer a person who refuses to defend himself. The comic strip character Caspar Milquetoast, created by Harold Webster, was named after the word.


By: HLPhoto

Butter is a key ingredient to make milk toast.

By: Andrey Kuzmin

Hot milk is poured over buttered toast.

By: bergamont

Toast, one of the ingredients in milk toast.