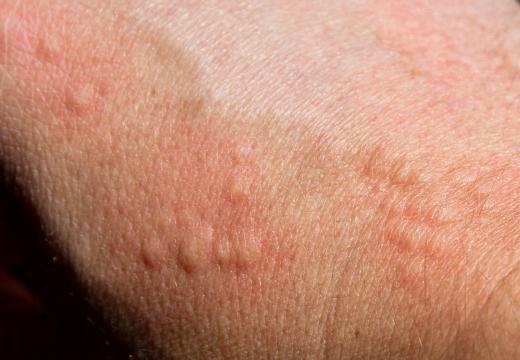 Megestrol is a prescription drug that is sold under the Megace® brand name. This drug is a synthetic version of progesterone, a female hormone, and is typically used to treat several forms of cancer including endometrial cancer and advanced carcinoma of the breast. Doctors may also prescribe this medication to treat some patients who have lost too much weight or have lost their appetites as a result of a disease. Some users of this drug may experience side effects, and doctors may decide not to prescribe this medication in certain situations.
Most patients take megestrol orally as a liquid suspension or in pill form with a glass of water. In most instances, doctors do not typically restrict a patient's diet while the patient takes this drug. Patients may develop an allergic reaction to this medication that may cause unusual symptoms in some cases. Allergic reactions can cause effects that require medical treatment in severe cases, such as throat closure, breathing problems and hives on the skin. Swelling of the face, tongue or lips may develop in some patients who experience an allergic reaction.
Some users of megestrol may experience serious side effects such as vision changes, a severe and sudden headache or a swelling and numbness of the legs or arms. Less serious side effects such as dizziness and weakness have also been reported by some patients who used this drug. Vomiting and nausea are possible with this medication, and some patients have reported menstrual bleeding, sweating and hot flashes. Insomnia and a decrease in sex drive have occurred in some instances. Many patients benefit from a discussion with a doctor about this drug's side effects.
Insulin and oral diabetes medications such as glyburide, tolazamide and glipizide may become less effective if they are taken concurrently with megestrol. Some patients with diabetes can develop an unexpected increase in blood sugar while taking megestrol that typically shows up during regular blood sugar monitoring. Physicians typically ask diabetic individuals and other patients about any prescription drugs they are taking in an effort to minimize or avoid drug interactions.
Megestrol patients with a history of blood clots may require special monitoring or dosage changes in some cases. In most instances, pregnant women are not prescribed this drug due to its potential to cause birth defects. This drug may also pass into a mother's breast milk and may have harmful effects on a nursing infant. Pregnant women and breastfeeding mothers may want to discuss their medication options with a physician to try and avoid serious complications.


By: Jürgen Fälchle

Hives may be an indication of a medication allergy.

By: Alliance

Nausea and vomiting are possible side effects of megestrol.

By: logos2012

Megestrol is a synthetic version of progesterone.

By: Creativa

Mood swings may occur as a result of low progesterone levels in women.

By: Syda Productions

An allergic reaction to megestrol may cause facial swelling.