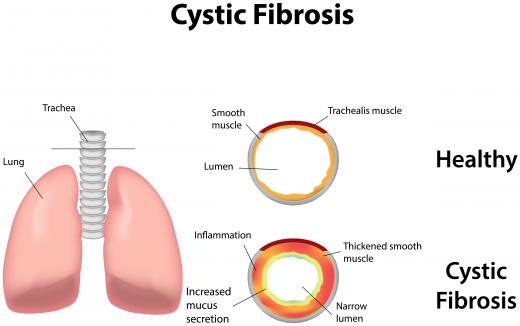 The term meconium ileus refers to a condition characterized by meconium that becomes congested within the ileum, or pelvic area. Meconium is a collection of waste materials and dead cells that accumulates within the bowels of an unborn fetus. Most times it is passed during the infant's first bowel movements within a few days of birth. Sometimes, however, it becomes compacted, causing an obstruction in the ileus region, or the flat area of the pelvis.
Meconium ileus is generally a first indication of cystic fibrosis, although many cases do not have a known cause. There is also no link between the presence of meconium ileus and the severity of cystic fibrosis. The first signs of the condition include vomiting and bowel distention shortly after birth. Obstructions may be unblocked by using medications to liquefy and release the meconium. In some severe cases, surgical procedures may be needed.
Testing for cystic fibrosis may be performed after a diagnosis of meconium ileus is made. Proper treatment of both conditions as early as possible will provide the best possible outcome for the infant. Cystic fibrosis is characterized by a production of thick mucus in internal passageways within the body. This is what causes the blockage found in meconium ileus. However, this condition is often mistaken for meconium plug syndrome which is also caused by a mucosal mass blocking the meconium from passing.
There are other causes for meconium obstruction as well, ranging from unknown causes to malformed bowel cavities. If cystic fibrosis is ruled out, then other conditions should be tested for to allow proper treatment for any underlying illnesses. In some cases, no cause for mucus meconium obstruction is found.
There are no known ways to prevent meconium ileus, but cases are generally rare. A much more common and dangerous condition is when the meconium is released before birth. This may result in contamination of the amniotic fluid. Treatments for this condition may include administering antibiotics intravenously if delivery is imminent, or an emergency cesarean section if labor has not begun or his not far enough progressed.
Infants who suffer from meconium obstructions that are not cystic fibrosis-related often have no complications. The condition may be monitored to ensure that no further congestion is noted. If bowel obstruction becomes a chronic problem, further testing may be needed. Symptoms for a real obstruction, compared to more common cases of constipation, are a distended abdomen, severe crying, and vomiting.


By: joshya

Testing for cystic fibrosis may be performed after a diagnosis of meconium ileus is made.

By: Anton Booysen

A mother having meconium ileus may bring about an emergency C-section.

By: Aleksandar Todorovic

Cystic fibrosis is a painful, genetic disease that can lead to infections in the lungs.

By: Andres Rodriguez

Cystic fibrosis is characterized by excessive mucus in the lungs.