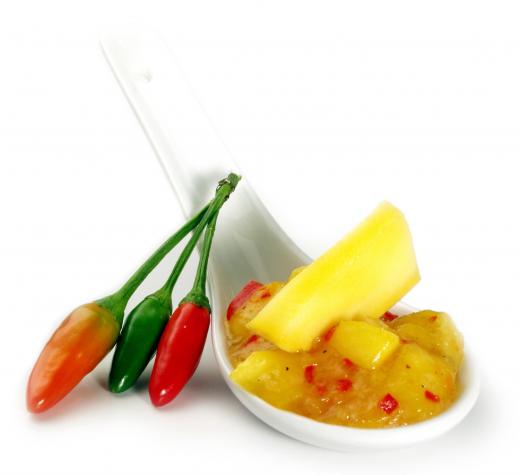 Sweet in flavor and bright in color, mango relish is a condiment that can be served either cool or warm, and is made using mangoes, onions, and garlic, as well as sugar, vinegar, and chili. There are, however, many variations in recipes, some of which include lime and honey as well as salt and pepper. Usually served as an accompaniment to chicken or fish dishes, mango relish can also be incorporated in Thai and Indian cuisine. It can be used as a sauce in burgers or as a dip to be served alongside finger foods, and is very quick and easy to make.
To make mango relish, the mangoes first need to be peeled and the seed should be removed from the center. The flesh of the mango should then be diced, along with any other ingredients that will be added to the relish, such as garlic and onions. Once all of the ingredients have been diced and prepared, they then need to be combined in a small bowl. If a cool relish is desired, the mango relish can be refrigerated after all of the ingredients have been mixed together or blended to create a warm relish. All of the ingredients need to be combined in a saucepan and simmered for approximately five minutes or until it begins to thicken.
There are many ways in which mango relish can be used; however, incorporating it into a chicken dish is a popular choice. A simple recipe to follow is to marinate chicken breasts in soy sauce, garlic, and ginger until they are well-coated and then place the marinated pieces in a frying pan on medium to high heat in either vegetable or olive oil. The chicken pieces should then be cooked on either side for approximately six minutes and served with the relish and other desired accompaniments, such as pita bread.
Mango relish can also be made using ingredients commonly found in Thai cooking, including fish sauce and coriander leaves. By combining these ingredients with mangoes and other seasonings of choice, it is easy to create a Thai-inspired relish that can be used to dip tortilla chips, cooked prawns, or other desired finger foods. Similarly, by combining mangoes with ingredients that are popularly used in Indian cuisine, such as cumin and cardamom, mango relish makes a great accompaniment to be served with curries, naan bread, and poppadoms.


Mango relish.

By: Christian Jung

Mango relish can dress up a chicken dish.

By: Maris Kiselov

Mango chutney is often used to add sweetness to fiery Indian curries.