What is Malpractice Insurance for Social Workers?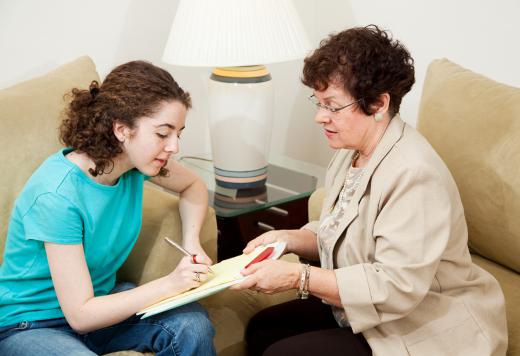 Malpractice insurance for social workers helps protect professional social workers from financial loss in the event of a lawsuit. While a social worker's employers also carry insurance against malpractice lawsuits, professionals often carry separate insurance policies as an added layer of protection and to assure that her or his individual need for representation is the top priority when legal proceedings are initiated by a client. Malpractice insurance for social workers is sometimes referred to as professional liability insurance and is often attainable through private insurance agencies, as well as professional trade membership organizations.
Malpractice insurance for social workers can be purchased in varying amounts. Such insurance is intended to protect against financial loss if a client initiates a lawsuit alleging malpractice relating to assault, battery, libel, slander and a list of other wrongdoings. Coverage may also seek to protect against loss relating to lawsuits that may be dismissed due to fraudulent claims, but where attorney fees were still accrued prior to dismissal.
Some of the more common claims leveled against social workers in which malpractice insurance for social workers may offer protection include claims of a missed diagnosis, causing a patient's suicide, treatment without consent, false imprisonment and improper removal of a child from a parent's custody. Even in cases where a lawsuit is found to be groundless, a social worker must respond to each claim and, thus, hire legal representation. Malpractice insurance for social workers helps protect social workers from financial burden and loss when such allegations are made.
The amount of insurance needed is an individual decision a social worker must decide upon depending on the policies made available to her or him. Most take into consideration the amount of hours worked in the field, as well as the client populations she or he is working with. Whether working part time or full time and regardless of client populations, however, a high level of risk is always assumed when working directly with the public. For this reason, most professional organizations recommend a minimum coverage of $1 million US Dollars (USD).
In the United States, social workers must earn a social work degree before being eligible for coverage by malpractice insurance for social workers. Students majoring in graduate level social work training, however, may also obtain malpractice insurance for social workers while in clinical training, provided that the student is being supervised by a licensed social work professional. Some institutions of higher learning, in fact, require students to carry such insurance before being allowed to participate in graduate level coursework.


By: Lisa F. Young

A social worker working with a teen.