What Is Macadamia Shampoo?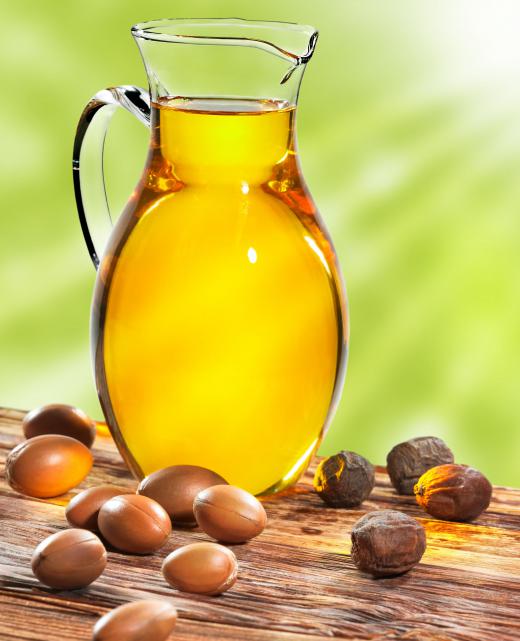 Macadamia shampoo is a beauty item that uses oil derived from macadamia nuts for their natural UV protection and other hair benefits. These types of shampoos are typically marketed as all-natural, and rarely include any harsh chemicals. The shampoo works in the same manner as most other types of shampoo, and is considered ideal for the majority of hair types. While allergic reactions are rare from this product, those with any type of food allergy are often urged to test the product on a small portion of skin before using.
The primary ingredient in macadamia shampoo is oil from macadamia nuts. These nuts grow on trees throughout the South Pacific, and are well-known for both their health and beauty benefits. The trees primarily grow in Australia and Hawaii, as well as Brazil, Israel, Costa Rica and certain parts of the United States.
Macadamia shampoo provides natural protection from the sun, and the oils used in the shampoo are believed to be able to penetrate the hair shaft, providing optimal moisture and nutrients. The oil in the shampoo is rich with fatty acids, and is quite similar to the natural oil produced by the scalp. This makes the moisturizers of this shampoo not only easily absorbed by the hair, but also helps to cleanse the hair without causing the oil glands in the scalp to produce massive amounts of oil to replace what is removed.
Often marketed as all-natural, macadamia oil is the primary ingredient in these types of shampoos, but also important is what is not included. As macadamia shampoo typically relies on all-natural ingredients, it rarely include sulfates, a harsh chemical cleansing agent, or parabens, a type of preservative. In certain macadamia shampoos, argan oil is also included, which helps to improve the strength and health of the hair.
This type of shampoo is used like any other; the hair is wet down, the macadamia shampoo is worked through and then rinsed. In most cases, it is recommended that a macadamia conditioner is used after washing. Studies have found that many macadamia shampoos help to prevent fading in color-treated hair, and many people have found that this shampoo works well for straight and curly hair alike. As the macadamia oil provides healthy yet lightweight moisture, those with dry, damaged hair and those with oily hair can typically use it with good results.
In general, macadamia shampoo does not cause allergic reactions in people with nut allergies. While macadamia is often referred to as a nut, it is technically a seed. Despite this, those with food allergies or who have had allergic reactions to natural beauty products in the past are encouraged to test the product on a small patch of skin before using. This will help to ensure that no unusual allergic reaction occurs.


By: cut

Argan oil is derived from the fruit of the native Moroccan Argan tree.

By: Valua Vitaly

The fatty acids in macadamia shampoo are easily absorbed by the hair.

By: indiraswork

A rich macadamia oil shampoo may help tame curly hair and make it look less frizzy.

By: starush

Excessive itchiness may be a sign of an allergic reaction to shampoo.