What is Lotion for Dry Skin?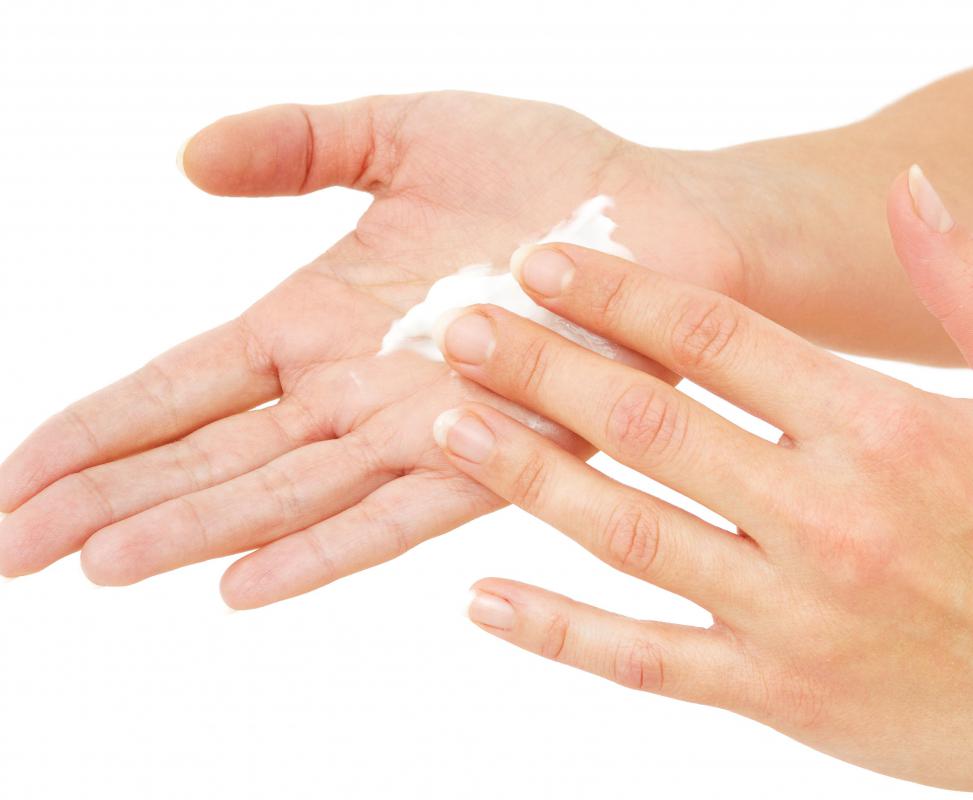 When dry skin occurs, conditions such as flaky and scaly skin, acne, and stretch marks can develop. Lotion can help conquer dry skin and prevent these conditions from occurring. There are several different types of lotion for dry skin. The type of lotion a person chooses depends upon the condition of his skin and what part of the body the lotion is being used on.
Medicated lotions for dry skin are often used by people who have eczema, also known as atopic dermatitis, which is a condition characterized by scaly skin. This type of lotion for dry skin often contains at least one percent hydrocortisone combined with natural oils such as kukui nut. The hydrocortisone soothes the itching caused by the dry skin while the natural oils soothe and soften the skin.
Acne lotion is a specialized lotion for dry skin, often used by people who are prone to breakouts. Acne can be triggered by the oils and fragrances found in regular lotions. The key moisturizing ingredients in acne lotions may include tea tree, lemon and jojoba oils. Tea tree oil is well known for its moisturizing benefits as well as for producing benzoyl peroxide, a popular acne-fighting ingredient. Lemon and jojoba oils moisturize the skin without clogging pores, and provide acne lotions with a clean, fresh scent.
Bath lotions are applied right after a person takes a bath or shower. They are used to replace the oils washed away from the skin by soap and warm water. A bath lotion works by preventing the buildup of excess keratin, or dead skin cells, which give the skin a rough, dry appearance. When this lotion for dry skin is applied directly after a bath or shower the body is able to absorb the oils, making the user's skin soft and supple.
Foot creams are intense dry skin lotions used to penetrate the tough exterior surface of the heels of the feet. Dry, cracked skin on the feet is often caused by age, thyroid disease, diabetes, athlete's foot, or improperly fitting shoes. Foot creams usually contain an alpha-hydroxy formula, which exfoliates the heels of the feet, helping to remove excess keratin and increase the suppleness of the skin. In order to increase the effectiveness of this type of lotion for dry skin, the user will often use it at bedtime in conjunction with a pair of heel socks to help lock in the cream.
People with normal skin conditions can use just about any type of lotion to prevent, or treat, dry skin on areas such as the legs, arms and torso. People with sensitive skin should avoid cheap or fragrant lotions, as they contain high levels of alcohol which may result in a rash. There are several types of hypo-allergenic lotions available on the market for people with sensitive skin.
By: Martinan

Hand lotions can be used to treat dry hands.

By: kez53

Eczema sufferers often use medicated lotions for dry skin.

By: Yuriy Chertok

Wearing open-backed shoes may cause dry, cracked feet.

By: maska82

Bath lotions are applied right after a person takes a bath or shower.

By: siraphol

Dry skin lotions come in several variety to treat a range of body parts.

By: Nobilior

Foot lotions are often formulated to moisturize and exfoliate.

By: Tiler84

Moisturizing hand lotion may be used to repair dry, cracked hands.

By: Elenathewise

Lotions containing vitamin E can be especially beneficial for people with dry skin.