Loratadine is an antihistamine which is classically used to temporarily relieve the symptoms of hay fever, including runny nose, watery eyes, and skin irritation. This drug is available over the counter in many regions of the world, and in some areas, it is the only over the counter drug which is specifically useful for hay fever, making it a very popular product. As with all medications, it is a good idea to consult a doctor before using loratadine, to ensure that the drug will not conflict with an existing medication or health problem.
This drug was developed by Schering-Plough and it was originally marketed as Claritin. Some other trade names used to refer to loratadine include: Lorfast, AllergyX, Symphoral, Lomilan, Roletra, and Tidilor. It is also available as a generic. Initially, the drug was available by prescription only. However, when the drug went off-patent, it was approved for over the counter use, and patients can obtain the drug in the form of tablets, including fast-acting tablets, and syrup.
Common side effects include drowsiness, dizziness, and dry mouth. People can also develop blurred vision, gastrointestinal problems, confusion, depression, arrhythmias, and convulsions, although these side effects are more rare. Loratadine can interfere with allergy testing, and patients may be asked to abstain from using the drug for a week before an allergy testing session so that the results will not be skewed.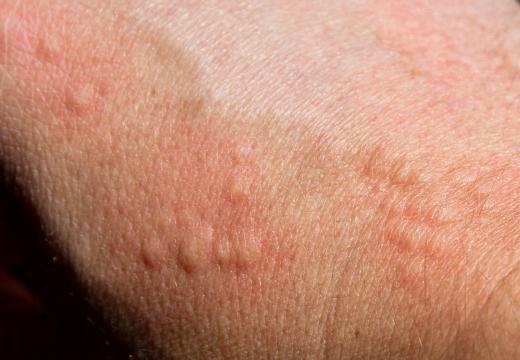 This drug may not be advised for people with liver and kidney problems, or it may be necessary to reduce the dosage of the drug for safety. Individuals with epilepsy have also experienced unfavorable side effects on loratadine, and the safety of the drug for use in breastfeeding and pregnancy should be discussed with a doctor.
Certain medications can cross-react with loratadine. For this reason, it is a good idea to discuss the drug with a primary care provider or pharmacist, and to disclose all medications and drugs which are being used, including herbal medications, so that the doctor can confirm that loratadine will be safe for use.
It is important to be aware that this allergy medication cannot prevent serious allergic reactions such as anaphylactic shock. The drug will also not cure hives, although it can reduce the itching, swelling, and redness associated with hives. Patients should be careful about mixing medications, and until they know how they react to loratadine, they may want to avoid operating heavy machinery, driving, or committing to social engagements, in case the drug makes them feel drowsy or dizzy.
AS FEATURED ON:
AS FEATURED ON:

By: Africa Studio

Blurred vision is among the side effects of Loratadine.

By: Jürgen Fälchle

Loratadine can relieve hives.

By: photophonie

Loratadine is commonly used as a temporary treatment for hay fever.

By: Rob Byron

Patients should be careful about mixing different prescriptions until they know how they will react to Loratadine.