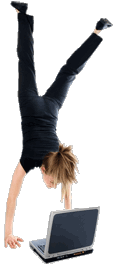 Log shipping is a technique that allows for automated creation of backups of databases and their supporting transaction logs and transfer of the backup to one or more secondary devices. In the event a primary server fails, these secondary devices will be available to take over and should have recent iterations of the database ready for use. This technique is used in information technology architecture in a variety of settings to ensure the continuity of data services in the event of an emergency.
In log shipping, the server goes through a series of steps. First, it creates a backup automatically by executing a scheduled task. Then, it sends the backup either to a secondary server or to a peripheral device, depending on how the system is set up. Next, the backup restores to the secondary server so it will be available for use. The system may also issue an alert to indicate that the task was performed and to provide more information.
It is possible to send backups to multiple secondary servers with log shipping, and there may be a number of reasons to do this. The design of the system must be done with care to protect the integrity of the information and to make sure it will work as expected. The secondary servers, for example, need to be robust enough to handle taking over for the main server, potentially for several days or even weeks. If they are not, the system could fail and create problems for users.
The advantage of automating log shipping is the assurance of regular backups, with a reduction in human errors. The system will back up as often as it is told to do so. Technicians with concerns can view the log related to the backup to confirm that it successfully completed. They can also check the databases on the secondary servers to see if they are complete and look for any signs of errors.
This is one of many options for database backup and the creation of redundant systems to take over in an emergency situation. Businesses with concerns about continuity of services and database losses can discuss their options with an information technology consultant. Another method may be more suitable for the needs of the business in terms of functionality, cost, security, or other concerns. The consultant can also evaluate the existing system to make sure it is a good candidate for the implementation of log shipping.


Woman doing a handstand with a computer