What is Lip Reduction Surgery?
Lip reduction surgery, also known as cheiloplasty, is a type of plastic surgery in which the lips are reduced in size and made symmetrical. While less popular than its counterpart, lip augmentation, lip reduction surgery is sought after by those with either naturally over-sized lips or who have had some kind of trauma or disease. Doctors commonly perform this surgery for aesthetic reasons, but in some cases it can be necessary if the functioning of the lips has been compromised due to their size.
This procedure can performed by a plastic or a maxillofacial surgeon, and may take place in a doctor's office, hospital, or clinic. Lip reduction surgery takes about 15 to 30 minutes to complete, and will require only regional or local anesthetic. After surgery, patients may be asked to wait up to two hours before leaving the medical facility to make sure their vital signs are stable.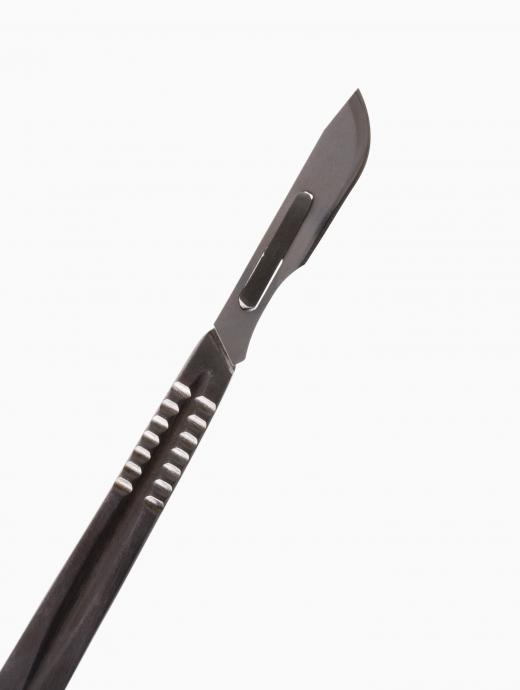 The operation itself typically consists of creating an incision on the inside of the lip and peeling away either a layer of skin or mucus membrane. This causes the lip to shrink and become less noticeable. The goal is to create lips which are proportionate to the size of the face and to each other. If both lips are being reduced, they will done at the same time. The incisions will be closed with sutures, which may be either dissolvable or require a second visit to be removed.
Recovery from lip reduction surgery generally includes sleeping with the head raised and limitations on diet. Both of these are suggested for a period of seven to 14 days after surgery. The diet restrictions typically cut out any food with high acidity levels or with intense flavors. Also, patients are cautioned against running their tongues over the incision site, or picking at the sutures with their teeth.
Complications from the surgery can include numbness of the lips, which may or may not be permanent. Also, there may be lumps or scar tissue present if the lips do not heal properly. There is also the possibility that the lips will be asymmetrical, even if the incisions heal well. This can be corrected, but will require another surgery.
The cost of lip reduction surgery ranges from $900 US Dollars (USD) to $2000 USD. Prices will usually vary depending on the surgeon, as well as the type of anesthetic or sedation used during the procedure. This is considered to be both a low-cost and low-risk plastic surgery.
AS FEATURED ON:
AS FEATURED ON:

By: iofoto

A scalpel is a small, sharp knife that is used in surgeries to make incisions.

By: Gina Sanders

Plastic surgeons have at least one consultation with each patient before they actually perform surgery.

By: Delphimages

Lips are reduced in size during lip reduction surgery.