Lemon verbena or lemon beebrush is an intensely aromatic plant native to Argentina and Chile. It was brought to Europe with early explorers, and became a popular addition to herb gardens in places like England. The rich, citrus scent is quite striking, and it is paired with an intense citrus flavor, but without the bitterness of true lemons. In addition to being an aromatic addition to the garden, lemon verbena also has culinary, cosmetic, and aromatherapeutic uses.
The plant likes light, loamy soil, full sun, and a great deal of water. Lemon verbena is usually propagated from cuttings, which are trimmed to promote shrub-like growth. It is a hardy perennial in USDA zones 9 and 10, but will need to be brought indoors in colder regions, since it dies in frosty or very cold weather. If it takes well to its location, the plant will grow up to 10 feet (3 meters) in height, producing long slender leaves and clusters of tiny white flowers.
In cooking, lemon verbena is used in a wide range of dishes. The intense flavor can be used like lemons would be in sorbet, or it can be added to herbal rubs for roast and fish. It's also used to flavor alcohol, oils, and marinades. Both fresh and dried leaves can be used in cooking. Since the flavor is very strong, cooks who are unfamiliar with this herb should start in small amounts.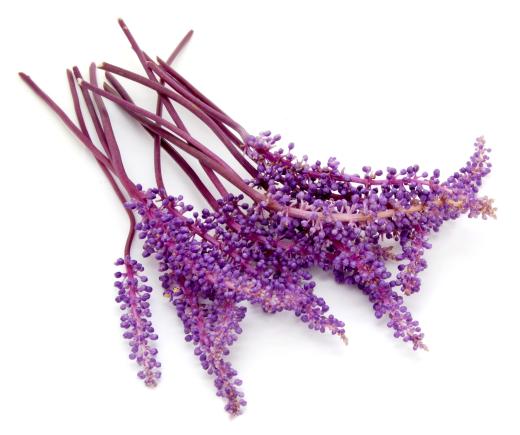 Some cosmetics also use lemon verbena, for its rich aroma. It is believed to be a calming, sedative herb, so it is often used in cosmetics designed to reduce stress. In aromatherapy, lemon verbena may be combined with herbs like lavender and clary sage for a relaxing blend of essential oils that can be used in massage or aromatherapy diffusers.
A tea can be made from dried or fresh leaves. The plant may soothe the stomach, making it a good choice for people with stomach upset, along with mild herbs like chamomile. Since lemon verbena is calming, it is often added to de-stress teas, and it may promote healthy sleep. As with all herbs and essential oils, people should not use it medicinally without consulting a medical professional, and if symptoms persist, the patient should stop taking the herb until the cause can be found.
AS FEATURED ON:
AS FEATURED ON:

By: wasansrisawat

Lemon verbena essential oil.

By: Kimberly Reinick

Lavender may be added to lemon verbena for aromatherapy.

By: viperagp

Lemon verbena essential oil has a rich scent.

By: ddsign

Herbal tea can be made from dry or fresh lemon verbena leaves.