Labskaus is a dish popular in German cuisine, with variations throughout Scandinavia, which consists of potatoes, corned beef or salted meat, and onions. There are a number of ways in which this dish can be prepared, though most preparations typically combine mashed potatoes with the salted meat and other flavors. Some recipes call for this mixture to be served with different sides, including pickled beets, fried eggs, and pickled herring. Labskaus can also be prepared with some of these sides mixed with the potato and meat, often including sliced beets and beet juice that give the dish a red or pink hue.
Known by similar names in different languages, labskaus spread throughout Europe due to its popularity among sailors. Its continued popularity in certain parts of northern Germany is likely due to the influence of such seamen in the area, as is its enduring popularity in areas such as Denmark and Norway. Labskaus can be prepared in a number of ways and served with a wide array of side dishes. The use of salted meat and pickled sides made this a popular dish among the poor, though it has gained popularity among wealthy individuals as well.
Labskaus typically consists of potatoes, onions, and salted meat such as corned beef. The potatoes are cubed or chopped and cooked in boiling water until soft, usually with some salt. They are then removed from the water, drained, and mashed with a potato masher.
Salted meat is cubed and sautéed in a pan along with diced onions, until soft and golden brown. This mixture is then combined with the mashed potatoes to create labskaus, and this is somewhat similar to corned beef and hash popular in England and other areas. While this process makes a very basic labskaus, there are a number of alterations and additions that can be made to this dish as well.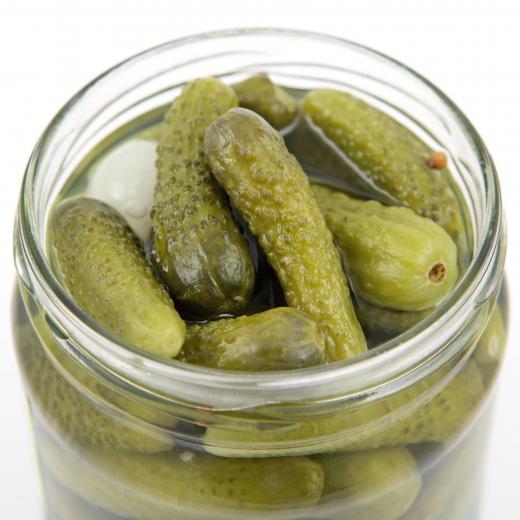 Labskaus is commonly served with side dishes such as pickles, fried eggs, pickled beets, and pickled herring. The pickled beets are sometimes added to the potato, meat, and onion mixture, along with a small amount of beet juice, to enhance the flavor of the dish and give the hash a red or pink color. Some recipes also call for pickled gherkins to be diced and added to the hash, though this is somewhat less common than simply serving the pickles on the side. Pickled herring is often served alongside this dish as well, typically in the form of rollmops that consist of slices of herring wrapped around onions or pickles.
AS FEATURED ON:
AS FEATURED ON:

By: Annfoto

Labskaus can be served with fried eggs.

By: ChantalS

Gherkins can be chopped up in, or served on the side of, labskaus.

By: Viktorija

Labskaus is commonly served with pickled beets.

By: Picture Partners

To make labskaus, potatoes are first boiled, peeled and then mashed.