Italy is known for many different types of sausages, but in the US, we tend to refer to one type of sausage only as Italian sausage. This is a pork sausage that can be mild to hot in flavor, and gets its distinctive taste from the addition of fennel seeds. Usually if the Italian sausage is labeled as spicy or hot, it also has red pepper flakes to provide extra heat.
The ingredients for Italian sausage are fairly simple: finely chopped pork meat, some pork fat, salt and pepper, usually nitrates, and fennel. Sausages of this type are about three to four inches (7.62-10.16 cm) long, and approximately half an inch to an inch (1.27-2.08) in diameter. The ingredients are packed into casings, so they stay together as the sausage cooks.
Italian sausage is popular served alone in sandwiches, perhaps accompanied by grilled bell peppers and onions. There are numerous uses for this sausage in a variety of dishes. For instance you can cook the sausage lightly and add it to marinara sauce, for a terrific and spicy meat sauce, or you can eat it as a breakfast sausage with traditional eggs and hash browns—figure about one to two sausages per person for breakfast.
Though many people enjoy the spicy sausage, laden with red pepper flakes, some prefer the relatively milder versions. Actually, the mild version is quite sweet and mellow, better known for its distinctive anise flavoring. You may want to chose mild Italian sausages if you plan to serve them to a large gathering of people, as some people don't care for the extra heat of the spicy version, and it may be hard to tell the two types apart when they're cooked.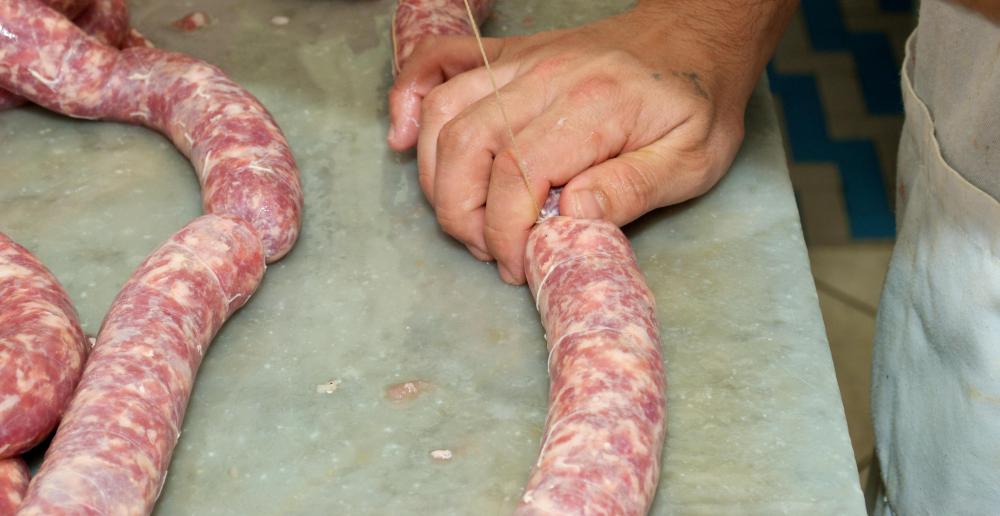 Cooking the Italian sausage is vitally important. Most versions are sold completely raw and must be fully cooked prior to serving. If you're concerned about making sure the interior of these sausages are completely cooked, you can boil them for about ten minutes prior to grilling or frying them. If you plan to use Italian sausages in sliced form, you should definitely pre-cook them. Once you start cutting into the casing of a raw sausage, the interior tends to fall apart if pre-cooking does not solidify it.
Since these sausages do contain additional pork fat, they are not exactly low cholesterol offerings. They tend to be high in fat, and are not the perfect diet dish. On the other hand, they impart so much flavor, that you can generally get away with only adding a couple sliced ones to a sauce meant to serve a large number of people. Some Italian cooks add both sausage and ground meat to Italian red meat sauces. If you use lean meats like ground chicken or turkey, and add two to three sausages, you'll lower the overall fat content of your red sauce without skipping the delicious flavor of Italian sausage.
By: Brent Hofacker

Spicy Italian sausage usually has red pepper flakes.

By: juliedeshaies

Italian sausage added to marinara makes a spicy meat sauce.

By: ping han

Italian sausage includes pork meat that is finely cut and seasoned.

By: Joe Gough

Italian sausage is often added to chicken cacciatore.

By: lucamedei

The spiced Italian sausage mixture is stuffed into casings to help the meat stay together when cooking.