What Is Involved in Making a Wig?
Making a wig is a long process with many steps. It takes dozens of hours, from the consultation with the client to knotting the hair to the final styling, to create a lifelike wig. There are machine made wigs, typically constructed from synthetic materials, but the most natural looking hairpieces are custom made by hand for a specific individual.
It begins with a consultation between the wigmaker and the client. After the wigmaker understands what the client wants the wig to look like, he or she wraps the client's head to create a soft mold. The wig maker uses this mold to create a pattern for the wig base. The mold is placed on a head form, traced, and covered with netting. The netting is cut to form the base for the hairs on the wig.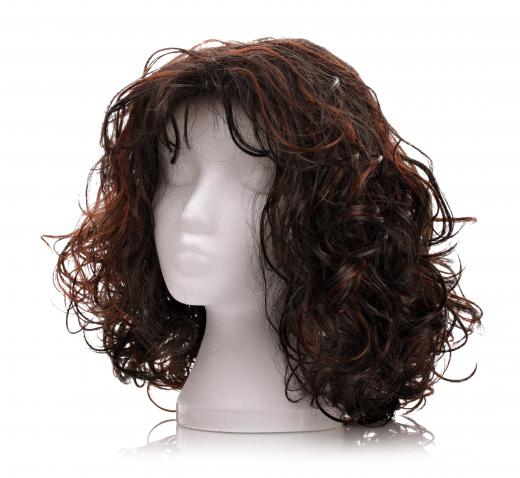 After the mold and base for the wig are made, the wigmaker chooses hair for making a wig. Typically, the hair is much longer than needed, but excess is allowed for styling. The wigmaker may use natural, synthetic, or a blend of hair types to create a wig that flows naturally and is easy to maintain. Different colors of hair may be mixed using a steel comb called a hackle. Blending different colors of hair creates attractive highlights.
When the wigmaker has blended the hair into a homogeneous texture and color, the hair is laid on holding cards. These cards have dozens of tiny pins to grip the hair. The wigmaker pulls groups of stands or individual hairs from the holding card to knot them onto the wig base.
Making a wig is a slow, laborious process. Knotting the hair onto the form, easily the most time consuming task in making a wig, can take over 50 hours, The wigmaker works across the head form in M-shaped rows, knotting the wig from the base of the neck up. Hairs are knotted using a fine, thin metal tool which loops the hair through itself and through the netting. The hairline is usually created with individual strands of hair since it is easily visible.
Once the knotting is completed, the client meets again with the wigmaker for fitting and styling. Excess netting from the base of the form is trimmed away, and the wig is trimmed to the desired length. Natural hair wigs can be cut and styled like growing hair, but synthetic wigs usually have a specific style. A synthetic wig cannot withstand heat from blow dryers or curling irons, so the style cannot be changed.
AS FEATURED ON:
AS FEATURED ON:

By: Brian Jackson

Making a wig takes dozens of hours.

By: diego cervo

Many people donate their hair to organizations that make wigs.

By: prudkov

Wigs may be particularly beneficial to individuals experiencing severe hair loss.