What is Involved in Hardwood Floor Installation?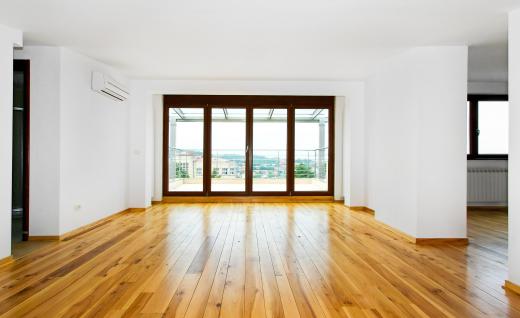 With traditional hardwood floors capable of lasting more than 100 years, it is no wonder why many people choose to install hardwood floors in their home. Installing hardwood floors is a meticulous job that requires excellent carpentry skills. Not only are hardwood floors durable, but they are stunning, too. When considering installing hardwood floors, it is important to understand everything involved.
Prior to hardwood floor installation it is necessary to inspect the site where the hardwood floors will be placed. Whether the site is new construction or a remodel, the area should be structurally sound, level and free of groans and squeaks from the subfloor. Additionally, the area must be cooled or heated to an average room temperature and average humidity. Failure to do so will cause extra expansion and contraction in the wood which may cause poor installation. Similarly, the hardwood should be acclimated to its surroundings for a minimum of 72 hours for the best installation.
In the event that hardwood floor installation will take place over a concrete slab in a basement, it may be necessary to seal the floor prior to installation. Sealing the subfloor will prohibit moisture from the subfloor from reaching the hardwood planks. It is not necessary to remove baseboards before installing wood floors; however it will give a newer look on older homes. Quarter round or shoe molding may be installed after the floors for a more finished look if the baseboard is left on.
Once the subfloor has been prepped for installation, the door jambs and hardwood planks should also be prepared. Door jambs will need to be cut about 1/16 of an inch (.16 cm) above the hardwood floor. This should be done carefully with a special tool that is used to undercut door jambs. At least six to eight boxes of hardwood planks should be opened while installing hardwood floors. Because one box will be a slightly different shade than another, it is necessary to mix planks from many different boxes to mix shades and give a more natural look.
Installing the first row of hardwood floors, or baseline, is the most important step of hardwood floor installation. If a mistake is made in this step, the whole room will be crooked. It is recommended to use an outside wall as a baseline because the measurements will be a true square. The baseline should be a popped chalk line along the outside wall which will guide installation.
After the baseline is established, glue is spread along its edge and the planks are pressed down. Each additional row is finished by spreading glue, slipping the tongue of a new plank into the groove of the plank that is on the floor, and repeating throughout the whole room. After installation is complete, it is necessary to roll a 75-pound (34 kg) roller over the floors to flatten the planks and spread the glue evenly.
It is important to note that during the hardwood floor installation, the planks should be staggered like a staircase so none of the seams touch. Special attention should be given to end cuts that are close to the wall. The end cuts should follow manufacturer recommendations regarding the size of gap to leave and how to cut the wood. All cuts should be made with a table saw.


By: Tatty

A house with hardwood flooring.

By: akf

Installing hardwood floors requires exceptional skill.

By: auremar

A hardwood floor layers uses a number of different carpentry tools.

By: jogyx

Installing hardwood floors may help add value to a home.

By: Brian Creswick

Hardwood floors have the capacity to last more than 100 years.

By: Wollwerth Imagery

When installing hardwood floors, first allow the boards to acclimate to the temperature and moisture levels in the house.