What is Intermodal Shipping?
Intermodal shipping is a method of transporting cargo using multiple modes of shipping from origin to destination, without any handling of the freight itself while changing modes. It uses special containers or trailers that allow goods to be moved directly from one mode of transportation to another without having to be repacked. Companies use this method to move freight from one location to another in the most efficient, timely, cost effective, and environmentally friendly manner. Transportation modes used include trucks, railroad, ocean carriers, steamships, and airplanes, but the most common combination is truck and rail.
Trains can haul more cargo than a single truck, which makes rail far more efficient than trucks to move large loads. Using freight trains to haul goods also has the potential to significantly reduce environmental pollution by decreasing the amount of greenhouse gas emissions. Trains cannot be used in "door-to-door" delivery, however, and they have more limited scheduling flexibility than trucks. Intermodal shipping, therefore, combines the best attributes of both rail and truck shipping.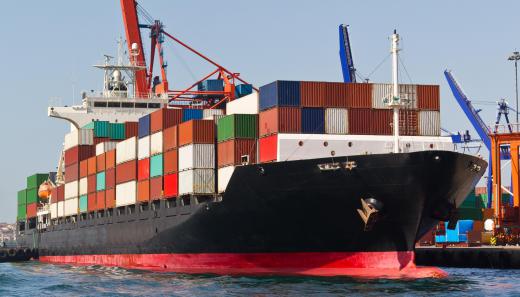 There are additional advantages to using this type of shipping, including its flexibility. It can be used to transport a wide variety of freight, including manufactured goods, raw materials, and cars. There are even specialized refrigerated containers called "reefers" for shipping perishable food items and liquids.
Another advantage is increased security. The contents of the transport containers are unknown to shippers, because they are opened only at the point of origin, at customs, and at the final destination. Intermodal shipping also limits the risks for the goods it transports, because the containers are highly resistant to extreme weather conditions. Losses and spoilage, especially those of highly valuable commodities, are therefore considerably reduced.
There are also several drawbacks to this shipping method. Although it offers increased security, it may not be suitable for all types of goods. Time-sensitive goods might call for a faster or more flexible delivery than railroads can offer, and items that are extremely sensitive to shocks may require a smoother ride than freight trains can provide with their typical swaying motion.
Another disadvantage is that most ports are not large enough to house a great number of intermodal shipping containers. Moreover, the special equipment required to move the containers is extremely expensive, so smaller ports cannot effectively participate in the trade. In addition, because of their confidential character, the special containers are attractive to those involved in the trafficking of weapons, drugs, and illegal immigrants. New electronic scanning techniques are slowly being implemented to remotely inspect the inside of containers at major shipping centers, however.
AS FEATURED ON:
AS FEATURED ON:

By: EvrenKalinbacak

Transport via ocean carrier is one of the transportation modes used in intermodal shipping.

By: Janis Smits

Goods may be transferred from a ship to a train during intermodal shipping.