What is Industrial Research and Development?
Industrial research and development is a term used to describe research activity conducted within a specific area or discipline. Although all industries develop new products and methods of reaching customers, technology-based firms are reliant upon industrial research and development projects to yield new products or enhance existing ones. This type of department is often found in large manufacturing firms around the world.
There are three primary aspects to industrial research and development: new technology or products, enhancement of existing products, and applying for patents. People employed in industrial research and development projects include scientists and information technology professionals. The vast majority of firms require all researchers to have doctoral degrees. In many cases, the researchers are recruited from universities and publicly funded institutes based on their work.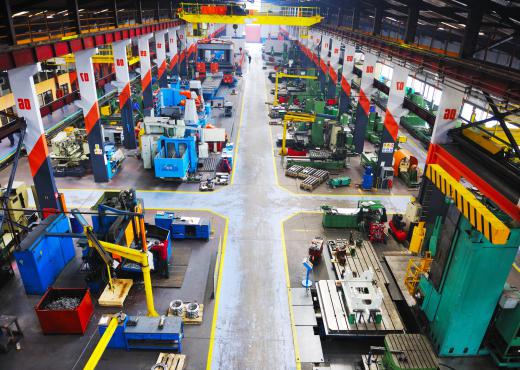 In order to maintain market share, most companies need to create new products. This is especially true in the technology-based industries, as it is an extremely competitive market. Firms that fail to provide new products soon fall behind. The process required to develop new technology is complex and time consuming. Most technology firms invest a significant amount of time and money into research activities.
One way to achieve an excellent return on investment is to enhance an existing product. In many cases, when a new product is being developed, there is a range of different features and options that can be included. These items are either incorporated into the initial design or are held back for further exploration. The investigation and enhancement of these options allow the firm to lengthen the life cycle of the product, while continuing to yield revenue from the existing product offering.
The decision about when the research phase of product development is over and when production begins is usually a business decision. Left to their own devices, researchers might continue to explore the different options, features, and functions forever. However, a business can only start to generate revenue from the product once it is finalized and presented to potential clients. Deciding when to draw that line and what features will be held back is a complex one, involving a review of the competition, consumer needs, price points, and production challenges.
Applying for and utilizing existing patents is an important element of industrial research and development. The most innovative firms pride themselves on the number of patents issued, and the principal investigator is often rewarded both financially and socially for this achievement. Many firms have administrative staff dedicated to the patent management process, both for new patents and tracking use and payment for existing patents.
AS FEATURED ON:
AS FEATURED ON:

By: .shock

In order to maintain market share, most companies need to create new products.

By: Photographee.eu

In the medical industry, R&D companies conduct guided experimentation geared toward finding new treatments for disease.