Indie clothing is a type of clothing that includes vintage, hipster and retro clothing. It is often worn by people who enjoy less mainstream activities and enjoy or make independent music. Indie clothing is usually thought to be highly affordable, because it can be purchased at thrift stores. Clothing purchased in specialty shops or made by individual fashion designers, however, might be more expensive than articles of clothing that can be purchased at department stores.
When people think of indie clothing, they usually think of apparel that can be purchased at secondhand stores. This type of clothing can be bought for exceptionally low prices. Many people who enjoy buying their clothing from secondhand shops like the process of finding potentially stylish and hip clothing amongst less-than-desirable articles of clothing. Searching through secondhand stores and locating a great piece of clothing can be referred to as a "find."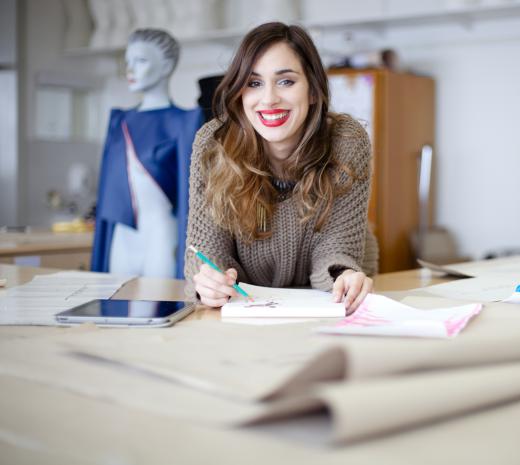 Although one source of indie clothing can be secondhand stores or thrift shops, those who wear indie clothing can also incorporate more expensive pieces into their wardrobe. They might find clothing that they'd like to wear at higher-end vintage shops. These shops can specialize in a particular style of dress or decade in fashion. For instance, hipster clothing might be able to be found in shops that cater to those who want to wear "mod" clothing.
Vintage clothing often involves one-of-a-kind pieces, so indie clothing has a reputation for valuing individuality and personal style. Like other modes of fashion, however, this style of dress can also follow trends. Certain accessories can become popular among people who like to wear independent fashion. Specific styles and colors belts, for example, can become trendy and might be adopted by those who wear indie clothes.
Even though independent fashion can rely heavily on vintage clothing, it also can be manufactured by independent fashion designers. These designers can work out of their homes designing and manufacturing fashions by hand, or they can run independently owned shops to sell their clothing to the public. Independent fashion designers can decide to charge a little more for an item than their commercially produced counterparts. This can be because of the amount of personal work that goes into the construction of a piece, but also because independent fashion designers can incorporate vintage fabrics into their pieces.
Indie clothing can be associated with music, as well. Musicians known for making independent music, or music that is not produced or released by major labels, can often adopt this style of dress. In that way, indie clothing can be considered to be part of a greater independent culture.
Indie Clothing Brands
From plus-size whimsical clothes to androgynous goth brands and everything in-between, there is a huge range of different types of indie clothing brands available online and around the world. The key is to find what suits your style, your size, and your price range.
Stuzo Clothing
An indie clothing brand owned by Black, queer, and women creators and catering to fashion icons of all ethnicities, Stuzo Clothing was created by Uzo Ejikeme and Stoney Michelli in 2010. Today, the brand take pride in creating an array of gender-neutral, affordably priced, casual designs that range from its "Black Magic" line to its "Woman Up" line and beyond. Black, gray, and yellow are common color schemes in this store's online shop, which features everything from crop tops to coffee mugs.
Washington Ave
Another Black-owned business, Washington Ave is an online retailer features reworked crop tops, Daisy dukes, and a range of other vintage, one-of-a-kind, femme-leaning items. One thing is for sure: When you buy something from here, nobody else you know will be wearing it. The racks vary depending on the season and what the creators find for their customer base, but examples include 1980s-style blazers, vintage sweaters, and even a mystery box that sends up to four pieces to the most adventurous shoppers.
Wasil
Fashion is for everyone and Wasil makes hard to ensure it's accessible for people sizes XS-5X. In fact, if you want to buy something but need a more exact idea of the size, the shop even provides free custom sizing at no extra cost. The clothing itself can be described as part of the "cottagecore" aesthetic. Think cropped puffer jackets, floral corsets with puff sleeves, cow print handbags, bucket hats, and so much more. If you truly love the aesthetic, you can even buy rugs to dress up your home.
Fruity Booty
A UK-based shop, Fruity Booty sells lingerie, swimwear, and clubwear made from reclaimed fabrics, which means you get to look fashionable while helping to save the planet. Available in sizes XS-XL, you'll find everything from underwear sets with lacy heart patterns to checkered crop tops, cherry patterns, and other vintage-inspired designs. Gloves, garters, and even gift cards are availalbe as well.
Alice Made This
You can't have fashion without some gorgeous jewelry to match all those great new outfits. Alice Made This (sometimes shortened to AMT) is an independent label that creates uniquely crafted pieces of jewelry to match your professional outfits, your night-on-the-town outfits, and everything in between. You might even find that perfect pair of cufflinks for your upcoming wedding at AMT. From personalized lapel pins to beautiful pairs of earrings and everything in between, AMT offers pieces for both men and women and at a variety of price points. Do you love someone who loves jewelry? Gift them something from Alice Made This and you can be sure it's a one-of-a-kind piece.
Nerecina Couture
If you need a beautiful dress for a beautiful occasion, you can't miss LA-based Nerecina Couture. Available in sizes L-5X, the luxury, independent brand features everything from jumpsuits to made-to-measure wedding dresses with the goal of creating gorgeous fashion for sizes often left out of couture markets. Silkly fabrics, deep jewel tones, and dainty floral prints are just some of the stuff you'll find when you shop these limited edition pieces. Whether you're planning your nuptials or just need a smoking hot bikini for your next vacation, you won't want to pass up these high-quality pieces.
Where To Shop for Indie Clothes
When it comes to where to shop for indie clothes, the answer is practically everywhere. If you're the type to shop online, you'll find the above brands on their own corners of the web, although it should be noted that not all brands will ship to all locations. If you prefer to try things on before you buy them, don't be afraid to look around your own city. Arts districts and university districts often have small, privately owned boutiques with unique fashion. If you love a good scavenger hunt, don't be afraid to check out all the racks at your nearest thrift stores, either. Remember, of course, that checking vintage racks will take some time, especially if you plan to go to multiple stores in one day. Grab your best friend, a bottle of water, and an on-the-go snack, because you'll have a blast as you spend hours searching through the stores to find just the right pieces in just the right sizes.
AS FEATURED ON:
AS FEATURED ON:

By: berc

Independent fashion designers will likely charge more for their clothing than major retailers.

By: gabe9000c

Thrift stores commonly offer indie clothing.

By: JackF

Indie clothing shops may specialize in a particular style of dress or decade of fashion.