What is HUD Multifamily Housing?
The Department of Housing and Urban Development (HUD) is a government organization in the United States that helps low-income families obtain safe and affordable housing. This aid comes in the form of Federal Housing Administration (FHA) loans and through government financial assistance programs that help families rent homes or apartments. HUD owned houses and apartments are made for sale or rent at lower prices than standard homes. A HUD multifamily home or unit would primarily refer to an apartment complex or duplex.
Some apartment complexes are HUD multifamily units because they are either HUD owned and operated or are owned by landlords who are willing to accept tenants who receive loans or grants from a HUD or FHA assistance program. These buildings allow more families to be housed at once and are often more economical for the government to afford than single family homes.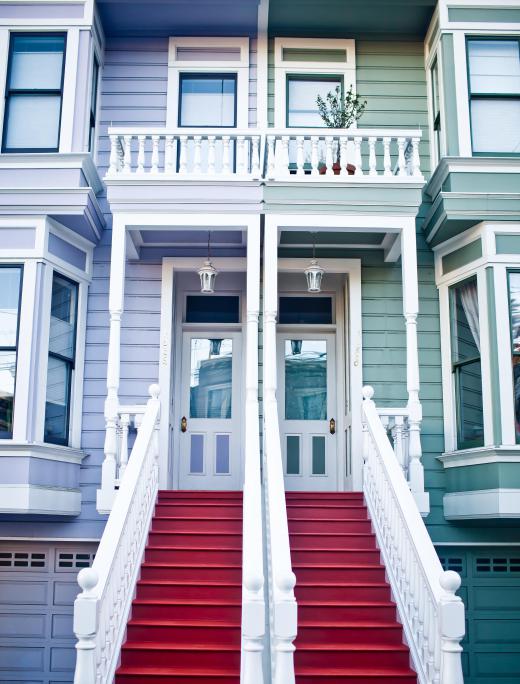 Duplex or triplex homes may also be HUD multifamily homes. These are similar to apartment buildings, but are only comprised of two or three units instead of dozens. They are generally one floor, with each unit being connected to the other. They are economical because the government will often convert an older single family home into several multifamily units. This is good news for loweincome residences because the more HUD multifamily homes the government can afford, the more families will benefit.
Some families apply for a HUD multifamily arrangement if they cannot get approved for a private bank loan due to financial or credit issues. There are several programs available through HUD, ranging from Section Eight housing and subsidized rent situations which help tenants cover all or part of their housing costs; to low interest government loans used for the rent or purchase of a home.
In order to apply for a HUD program, it is best to visit the FHA and HUD websites to obtain further information on the assistance plans they have available. These sites give instructions on filling out applications and income requirements. They may also offer additional links to assistance available for people who do not qualify for HUD programs.
Another group that benefits from HUD multifamily units is that of property investors who wish to own an apartment building or duplex as a source of income. Occasionally, HUD lists units for sale that have been foreclosed on due to nonpayment of an FHA loan. These units are often listed at prices much lower than market value. Listings can often be found on real estate websites, as well as the HUD website.
AS FEATURED ON:
AS FEATURED ON:

By: Andrew Bayda

HUD multifamily housing options may include duplexes.

By: deberarr

Large apartment buildings may have HUD multifamily housing.

By: ManuelHurtado

Federal Housing and Urban Development programs make certain houses and apartments available for sale or rent at prices lower than for standard homes.