Hospice nursing is a nursing subfield which focuses on end of life care for patients and their families. The primary purpose of hospice nursing is to keep patients comfortable in their last days, and to provide family members with information about the patient's condition. This particular branch of nursing can be extremely stressful, as hospice nurses work primarily with dying patients, but many people employed in hospice nursing say that their field is also very personally rewarding.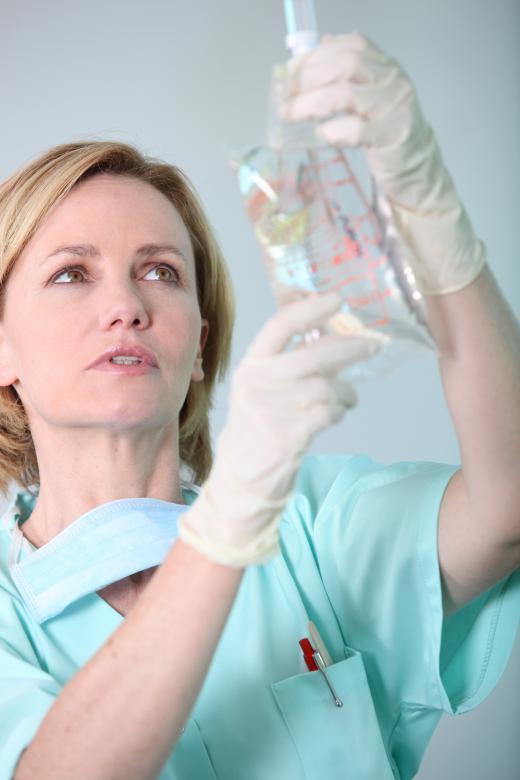 Hospice care can be provided in a variety of settings, and hospice nurses are often the leaders of the medical teams tasked with caring for dying patients. Some hospice nurses work in private homes, allowing people to spend their last days in a familiar environment surrounded by family members. Others work in hospitals, hospice facilities, and residential care facilities, caring for patients who need a more institutionalized environment, and for people who feel more comfortable in a hospice facility than a hospital.
The practice of hospice nursing involves managing pain and other symptoms associated with terminal illness and catastrophic injuries. Hospice nurses provide pain medications, check their patients for bed sores, infections, and other problems which commonly arise when people spend a great deal of time in bed, and supply their patients with emotional support, nutrition, and other forms of respectful care.
In addition to caring for patients, many hospice nurses also work with family members. A career in hospice nursing makes someone very familiar with the stages and processes of death. Hospice nurses guide family members through the process, telling them what to expect and helping them cope with the emotional strain of a death, and they are also prepared to summon family members when a loved one's time is near, ensuring that they are able to be present in the patient's last moments. Some hospice nurses also help family members prepare the body after death, and they may participate in grief counseling and other outreach programs to help people deal with the experience of death.
People who work in hospice nursing are sometimes accused of helping patients to die. Many hospice nurses greatly resent this, because their focus is on palliative care and keeping patients comfortable, not killing patients. A hospice nurse would like nothing more than to see a full and miraculous recovery of a hospice patient. Patients may choose to refuse food and water or to take an active role in directing their own deaths, but hospice nurses do not help patients to die, not least because this practice is illegal in many regions of the world.


By: Fotoluminate LLC

Hospice nurses are tasked with taking care of people in their final days.

By: auremar

A hospice nurse may administer medications through IVs.

By: Ocskay Bence

Hospice nurses are very involved with the patients and their families.

By: Hakan Kızıltan

Doctors and nurses are essential to a patient's hospice care plan.