Hobo soup is a classic soup, really predating the hobo. Stories of the famous "Stone Soup" where three traveling soldiers trick a town into providing ingredients to make soup can be seen as inspiration for the various itinerant travelers, who often got from one town to another by riding trains. Hobo soup would essentially be a blend of ingredients, gleaned from people kind enough to donate to hobos, or in some cases ingredients liberated (stolen) from people's gardens.
The ingredients for each hobo soup will vary according to what a company or person wants to put in it. A few things tend to be standard, like navy beans, onions, potatoes, and various herbs. Hobo soup might also contain carrots, celery, bell peppers, leeks or turnips. The soup as made by hobos would depend greatly on what ingredients they had available. Occasionally a little salt pork, ham, bacon, or bits of canned or corned beef might flavor the soup. Generally, though, many versions of the soup were and are still vegetarian and are very tasty.
The soup is rumored to have been discovered by a reporter from Minnesota in the 1950s. He decided to market the delicious soup he received from others while in search of a story about hobos, and now, Hobo Soup is still a brand in addition to being a type of soup. In the recipe for the canned version, artificial smoke flavor is added, which to some is distasteful. It's meant to replicate the taste of making this soup outdoors over campfires, but isn't quite the same.
It can be very hard to find this soup in stores. You'll generally have to order cans online from places like the Vermont Country Store. Ironically, this soup that generally came to hobos free of charge is very expensive as compared to most store brands of soup. For instance, you'll pay just under $10 US Dollars (USD) for three cans of the stuff. $10 USD in the grocery store can purchase about 5 cans of soup, more if they're on sale.
You might be better off making your own hobo soup, and you'll find many recipes to help you with this. Most require sautéing some vegetables first, especially with a little bit of onion prior to adding the other soup ingredients. You can use a little bacon sautéed, and the grease from the bacon to impart more flavor to the soup. If you use dried navy beans, you need to begin the night before by soaking them. You can take a little shortcut here by using canned navy beans instead.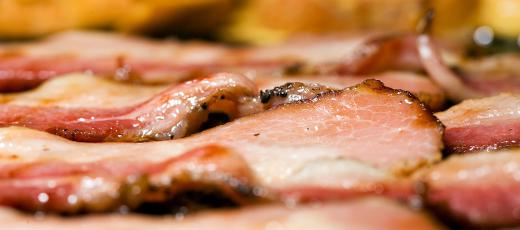 The end result is a delicious and healthy soup that in vegetarian form is very low in fat. Hobo soup can be a perfect and satisfying soup for cold days or nights. It's excellent served with crusty bread, or use it as a lunch soup or afternoon snack for kids coming in from outdoor play in the cold.
AS FEATURED ON:
AS FEATURED ON:

By: BronxPhotog

Navy beans, which are often included in hobo soup.

By: msheldrake

Hobo soup may contain meat, but primarily features vegetables.

By: Malyshchyts Viktar

Hobo soup ingredients may include bell peppers.

By: Mat Hayward

Bacon is often added to hobo soup.