What is High EPA Fish Oil?
Eicosapentaenoic acid (EPA) is one of the Omega fatty acids used by the body. High EPA fish oil is oil with a high dose of the essential fatty acid EPA. Fish oil is an oil derived from fatty fish like sardines, trout, and salmon. A high EPA fish oil supplement will usually have around 1200 miligrams of EPA per dose. This type of supplement usually comes either in liquid form or as a gelatin encapsulated pill.
Other types of essential fatty acids commonly included in fatty acid supplements include docasahexaenoic acid (DHA) and alpha linolenic acid (ALA). Most humans can thrive on only ALA, as a healthy person can convert ALA to DHA and EPA in the body. Individuals who cannot convert ALA are generally deficient in DHA and EPA and need to supplement both fatty acids to remain healthy.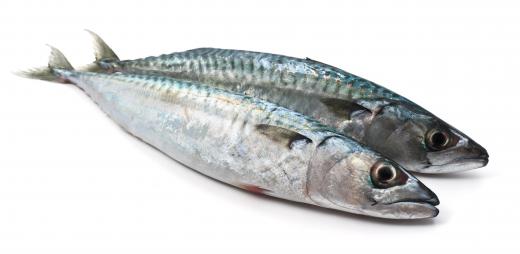 Because essential fatty acids are easily destroyed by heat, high EPA fish oil is best consumed raw and uncooked. For this reason, high EPA fish oil is usually taken as an oral supplement, sometimes by spoon, but most often in soft swallow-able capsules. Taking fish oil in capsules can help circumvent the fishy taste and strong smell usually associated with supplements derived from fish fat.
Buying high EPA fish oil from a reputable source is important in ensuring that a supplement is made from fish oil from safe types of fish. Certain varieties of fatty fish used for fish oil, like mackerel, shark, and swordfish, tend to have high mercury levels. Fish oil supplements produced from high-mercury fish sources is thought to be unsafe. Purchasing supplements from a reputable source that uses low-mercury sources of fish is the best way to ensure the use of safe high EPA fish oil supplements.
It is considered unsafe to consume more than 3 grams of essential fatty acid supplements in a day without the care of a physician. When choosing a dose for fatty acid supplements, look at the amount of EPA and DHA in the supplement, not at the size of the supplement itself. Some supplements contain other fats mixed with a smaller percentage of beneficial fatty acids.
Health benefits to consuming high EPA fish oil can include a reduction in blood pressure, a decreased risk of heart disease, and joint pain relief. Supplementation of EPA is thought to help alleviate conditions like diabetes and schizophrenia. This inference was made due to a theorized connection between these conditions and an individual's inability to convert ALA to EPA and DHA.
AS FEATURED ON:
AS FEATURED ON:

Mackerel is often used as the source for fish oil tablets.

By: Paul Maguire

High EPA fish oil may help reduce blood pressure.

By: Stephen VanHorn

Fish oil supplements are rich in healthy fats, such as omega-3 fatty acids; eicosapentaenoic acid, which is also called EPA; and docosahexaenoic acid, commonly called DHA.