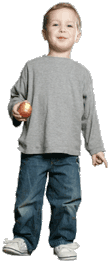 Hello Kitty is an iconic character developed by the Sanrio company from Japan. It has become one of the most branded characters in the world, appearing on everything from purses and cell phones to dolls and clothing. Hello Kitty is a large-headed cartoon cat, with no mouth, and small button eyes and a nose. She wears a red ribbon in her hair, and is an almost epitomized form of cute.
Hello Kitty is part of a fictional world, developed in 1974, which contains not only her, but a number of her friends, including Chococat and Cinnamoroll. She has an entire family structure, with a father, George White, a mother, Mary White, grandparents, Anthony and Margaret White, and a twin sister, Mimmy White. She also has a pet cat herself, named Charmmy White, who looks a great deal like Hello Kitty, but is less anthropomorphic, and more like an actual cat.
Hello Kitty was conceived essentially as a marketing vehicle to sell branded products. The first Hello Kitty product was a coin purse with her likeness appearing on it, and within a few years this had been expanded to a number of other products. Now, Hello Kitty appears on virtually every imaginable product, and her licensing brings in more than $1 billion US Dollars (USD) annually. Hello Kitty even has her own theme park, Sanrio Puroland.
A number of Hello Kitty television shows have been produced over the years, and she has made appearances in many other shows. The first cartoon fully devoted to Hello Kitty was Hello Kitty's Furry Tale Theatre, which aired in 1986 in the United States, and was produced by DiC Entertainment. Next came Hello Kitty and Friends, produced by the Japanese Madhouse studio in 1991. Then, from 1993 to 1994, Toei Animation produced Hello Kitty's Paradise, which ran on Toon Disney in the United States. Most recently, Hello Kitty's Stump Village was produced as a claymation show, and is slated to be released in the United States.
Hello Kitty has been heavily branded in a number of educational products, as well, helping to introduce children to any number of concepts. Many of these have been very positive for education, leading the UN Children's Fund, UNICEF, to give Hello Kitty a special honor, naming her UNICEF Special Friend of Children. Other branding opportunities teach kids how to interact as better consumers, most notably her branding on Legend Credit's Mastercard. The Hello Kitty card is designed as a way to show kids how they can shop and use debit cards, preparing them for adult responsibilities and budgeting.
Because of her iconic cuteness, Hello Kitty has also been used in a number of novel ways. One of the most famous of these, which received a great deal of news coverage, was using her likeness as a punishment to police officers in Thailand for minor infractions. Officers who do things like park in restricted areas, or have a history of showing up to work late, are required to wear an armband branded with Hello Kitty. This cute icon is seen as in contrast to the masculine image most officers are trying to project, and so acts as a deterrent, similar in scope to prisons that require difficult prisoners to wear pink uniforms.
Young boy eating an apple