A Greek salad is a mealtime staple in Greece. It's called horiatiki, or country salad, village salad, or peasant salad. Tomatoes, onions, cucumbers, feta cheese, Kalamata olives and olive oil are the standard traditional ingredients. Bell peppers are also sometimes added. Lettuce, vinegar and seasoned dressing are not traditionally included.
Dried oregano is sometimes placed on top of a Greek salad. The olive oil should be added at the table when the salad is served. Salads should be prepared at the last minute from refrigerated ingredients. The tomatoes and feta cheese are added last so they don't get too crushed.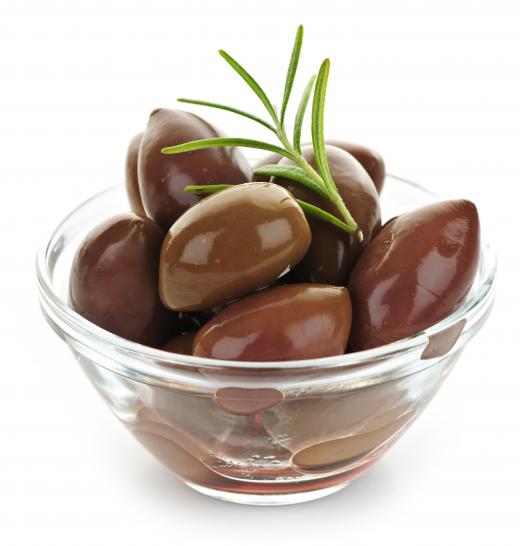 Thick beefsteak tomatoes are usually the best variety for use in Greek salads, and they should be left in good-sized chunks. It's important that all of the vegetables be left fairly chunky. Some restaurants grate the feta, perhaps to save money, but to be genuine, it should feature fairly large cubes of cheese. Cucumbers should first be sliced lengthwise and then chopped into chunks.
Greek salads are served at many different types of meals in Greece. Large feasts may have dozens of meat and seafood dishes, but a salad is usually always included. The cool, refreshing taste of the raw vegetables contrasts well with the heavy, flavorful main dishes. The Cypriot salad of Cyprus is similar, but the ingredients are usually more finely chopped and parsley rather than oregano is often used.
Along with pita bread and an ice cold drink, a Greek salad makes a simple, summer dinner. Cooks can just combine all of the ingredients that have been pre-prepared and waiting in the refrigerator together at the last minute. Plus, a bowl of salad and its accompaniments are easy to transport outside onto a patio or deck.
AS FEATURED ON:
AS FEATURED ON:

Kalamata olives, which are often included in Greek salad.

Pita bread, which is often served with Greek salad.

By: martinlee

Greek salads typically include tomatoes.

By: volff

Olive oil is usually an ingredient in a Greek salad.

By: indigolotos

Bell peppers are sometimes added to Greek salads.

By: Natika

Onions are often included in a Greek salad.

By: Picture Partners

Greek salads are ty.

By: Denis Tabler

Hearty Greek salads are usually served with an herb-infused vinaigrette.

By: food pictures studio

Cucumbers are standard in Greek salad.