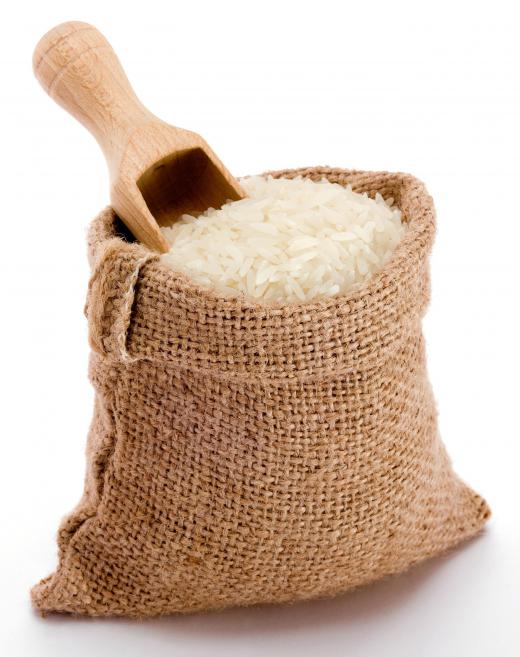 In Greece, a signature style of making rice is as a pilaf with a unique Mediterranean flair. This means the rice is often sauteed in olive oil, then cooked in a flavorful stock that is dotted with chopped or minced vegetables like onion, carrots, garlic and spinach. Giving Greek rice its characteristic flavor are ingredients like fresh basil, sliced nuts, lemon juice and even chunks of feta cheese.
The process of making a standard Greek rice often starts by caramelizing chopped onions and minced garlic in olive oil in a skillet over medium heat. Once the onion is nearly finished, other vegetables are added like diced or thinly sliced carrots and whole leaves of spinach. Finally, a boiling stock made from chicken, pork, lamb or even vegetables is added, using the amount of liquid needed for the amount of rice to be used. After the stock is simmering, the proper amount of rice is added with the juice of about half of a lemon.
Sometimes, Greek rice is finished on the stove top. A cover is placed over the skillet, and the heat is lowered until the rice is tender and the liquid has been absorbed — taking about 20 minutes or more, depending on the manufacturer's instructions. Others just prepare the vegetables in the skillet, then add cooked white rice just before time to serve. Another method has cooks pour boiling stock into the sauteed vegetables, add the rice and lemon juice, and then use a casserole dish to cook the rice in an oven. One recipe uses a stove set to 375°F (about 190°C) for as long as 40 minutes to make rice that is tender and steeped in flavor.
Fresh herbs can be added to Greek rice during the final toss, though salt and pepper should be added near the beginning of the cooking process. Complementary herbs for Greek rice are chopped basil, parsley and mint. Others prefer adding nuts like sliced almonds or pine nuts to the vegetables during the saute period. This toasts the nuts for added flavor. Another regular addition to this side dish is feta cheese, often just crumbled on top of the rice as the final step.
This dish is often served with roasted or grilled kabobs of pork or lamb. Though often served hot, it would not be unusual to find it being doled out cold. Perhaps the most ornate and time-consuming version of Greek rice is called gamopílafo, which means "wedding pilaf." With each grain of rice said to symbolize each individual wish of happiness for the betrothed, this pilaf is served alongside the meat responsible for the stock, tying the whole plate together.


By: airborne77

Uncooked rice.

By: anjelagr

Spinach is often added to Greek rice.

By: Andrey Starostin

Greek rice is often served with spice-rubbed grilled chicken.

By: Anna Kucherova

Greek rice can be made using lemon juice and mint.

By: sattriani

Mediterranean cooks often serve flavorful Greek rice with grilled lamb chops and other meats.