Of all of the goji supplements, goji berry tea is one of the most popular. Goji tea contains many of the same health benefits as goji juice, without the calories that many people wish to avoid. Some health benefits may include supporting the immune system and liver. The superfood drink is a rich yellow color when prepared, and sports a tangy, somewhat sweet flavor.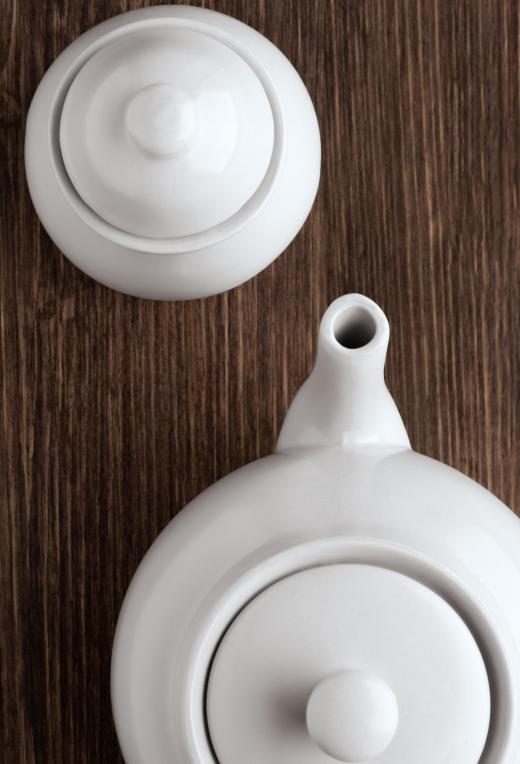 Goji berries, or wolfberries, are frequently hailed as one of nature's most beneficial fruits. Scientifically known as Lycium barbarum, they may also be referred to as matrimony vine, mede berry, and many other monikers. Though science has yet to definitively prove the medicinal values of goji tea and other products of the fruit, many people swear by the elixir and drink it daily for its purported benefits.
One of the most common benefits that goji berry tea is said to provide is that of a general health potion. Users claim the tea helps them maintain their overall vitality and good health. Circulatory systems may be aided by the drink, as well as healthy liver and kidney function. In traditional Chinese medicine, the herbal formula has been used for these healthful goals for centuries, as well as support of the immune system overall.
Healthy eyesight is a possible benefit of goji berry tea. Some herbalists and drinkers of the tea report that it helps improve sexual dysfunction and fertility. As a food, the goji berry also contains antioxidants that may help curtail free radicals in the body that could lead to cancer. Though some companies have attempted to sell the drink alongside the claim that it has helped people live to be 200 years old, the claim has not been proven.
Some people simply drink goji berry tea for its flavor. Tart and tangy, it has a sweet and sour flavor that many people enjoy. Commercial brews sometimes pair the tea with Japanese matcha, hibiscus, rosehips, or many other herbs for additional flavor. Goji tea is considered to be quite mild, and many tea drinkers may prefer to brew double the amount of tea suggested per package instructions for a fuller flavor.
For those who do not wish to drink goji berry tea, many other goji dietary supplements are available. Goji capsules are a popular way to acquire goji juice benefits. Chewable goji tablets can be purchased for those who do not enjoy swallowing pills. Traditionally, the berries are enjoyed raw or added to soups or stews. Commercially they are also available as snacks, such as in trail mix blends.


By: kostrez

Goji berry tea is sometimes paired with other herbal teas, like hibiscus, to add flavor.

By: Fisher Photostudio

Some people enjoy goji berry tea for its sweet yet tangy flavor.

By: spotmatikphoto

Goji berry tea supports the liver and immune system.