An exotic Japanese beverage, genmai cha tea is also known as the people's tea or brown rice tea. The full leaf drink is made from brewing rice and green tea leaves together. The result is a sweet, nutty dessert tea that is popular in many areas.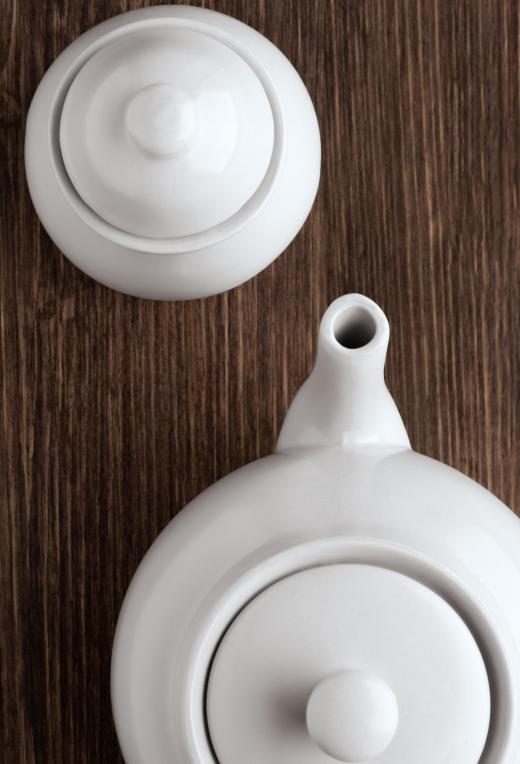 Another name the tea is typically called is the people's tea. This is due to its roots in Japanese peasant history. Historically, tea was an expensive luxury. To help make such a pricey commodity last, Japanese peasants mixed their tea leaves with roasted rice. From this simple procedure, the genmai cha tea flavor was born.
Genmai cha, or genmaicha, sometimes makes a popping sound as the the rice cooks with the tea leaves. For this reason, it is also known as popcorn tea. Some even claim that it tastes similar to popcorn. The tea features light yellow leaves and yields a mild, grassy flavor combined with that of the nutty roasted rice used to brew it.
To brew genmai cha tea, water should be steeped at 176 to 185 degrees Fahrenheit (80 to 85 degrees Celsius). Three to five minutes of brewing is generally recommended for the best results. Some people, preferring a lighter tea, may steep for as little as one minute. Genmai cha tea is considered an easy tea for brewing. Though most people prefer the beverage warm, it can be enjoyed cold as well.
Matcha-iri genmaicha is a popular form of genmai cha tea. Featuring added matcha, or powdered green tea, it is the typical version of the tea sold on the market. Matcha-iri genmaicha is usually more green than yellow. The tea is also often stronger than plain genmai cha tea. A fine strainer is recommended when brewing this tea, as the leaves are tiny and can easily be left in the finished product.
People from all walks of life take pleasure in the drink. Japanese children in particular enjoy the mild tea as part of an after school snack. Many people opt to drink the tea before bedtime to help induce a feeling of relaxation. Inexpensive, simple, and readily available, it is considered a toasty, comforting drink, particularly during the cold months of the year.
A popular Japanese legend presents an interesting alternative to the drink's history. During the 1400s, a samurai warlord in Hakone was outraged when his servant, called Genamai, spilled rice from his pocket into the samurai's green tea during a meeting. The samurai killed the servant and proceeded with his meeting, but found that his spoiled drink was very tasty. In honor of the servant, he then proclaimed that the tea should be called genmai cha tea.


By: Fisher Photostudio

In Japan, genmai cha tea is often referred to as "the people's tea" or brown rice tea.

By: Stepan Popov

Genmai cha mixed brown rice with green tea.

By: Monkey Business

People may drink genmai cha tea before bedtime to induce a feeling of relaxation.