Gel lotion is any type of gelantinized preparation, made with specially formulated ingredients to be applied topically to the skin for various purposes. Unlike liquid lotions, a gel lotion tends to solidify and coagulate, and will not become runny. A gel lotion may range from an acne lotion or medication to a stretch mark lotion. In most cases, gel lotions are intended for skin care, either for cosmetic purposes or medical treatments.
Several types of gel lotions are used for first aid purposes. Some may contain ingredients such as topical cortisone to reduce inflammation of insect bites, rashes, and burns. Other lotions in gel form, such as aloe, help promote healing of minor burns, cuts, scrapes, and other skin irritations.
Many gel lotions are used in facial skin care and gel lotion soaps. These may contain moisturizers or astringents. Facial lotions may be available in a tube, or jar, while some feature a convenient pump dispenser.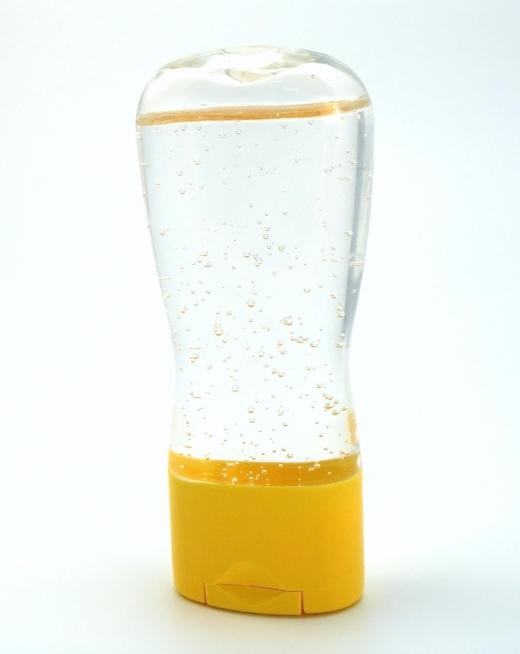 For hand-sanitizing purposes, certain gel lotions contain ingredients to kill germs. These antiseptic gels are often used while traveling and can be available in a compact size to fit into a purse or bag. Most of these preparations contain alcohol plus an added moisturizer such as aloe to help skin from becoming overly dry.
A type of solution for treating cellulite can also come in gel form. Some of these lotions are all natural and some contain collagen or caffeine. All are typically targeted to tighten and firm areas of the skin that contain pockets of fatty and indented skin.
Another type of gel lotion is a toning lotion. Toning gels can rejuvenate the skin by exfoliating and removing dead skin cells. By accomplishing these tasks, a toning gel or lotion will tighten the skin's surface, for a more youthful and 'glowing' appearance. For this reason, toners are often used by middle aged women, although many younger women enjoy these benefits as well.
Stretch mark gel lotions and scar-reduction gels work in a similar way to reduce the appearance of scars and flaws on the skin. Often during a pregnancy, a woman will develop stretch marks on the abdomen, as her skin becomes overly stretched. Specially formulated gel lotions can help reduce these marks by incorporating creams such as cocoa butter and Vitamin E. Lotions created for reducing scarring works in a similar way.
AS FEATURED ON:
AS FEATURED ON:

By: Ewa Brozek

Gel lotion is often transparent.

By: Karin & Uwe Annas

Toning gels are often used by middle-aged women to rejuvenate skin.

By: agephotography

Topical cortisone gels reduce the inflammation of bug bites, rashes, and burns.

By: Leo Lintang

Gel lotion may be used to reduce the appearance of stretch marks.

By: Ocskay Bence

Medicated gel lotions can help people suffering from acne.