Garlic salt is considered a spice or an herb and spice mixture. It contains powdered grown garlic, regular table salt, and an ingredient to keep the mix from clumping, usually called a humectant. Common humectants in garlic salt include calcium silicate, and occasionally you'll find the salt with a few other herbs like parsley, or as part of an herb or grill seasoning mix. You'll easily locate garlic salt in most grocery stores in the spice or seasonings section of the store.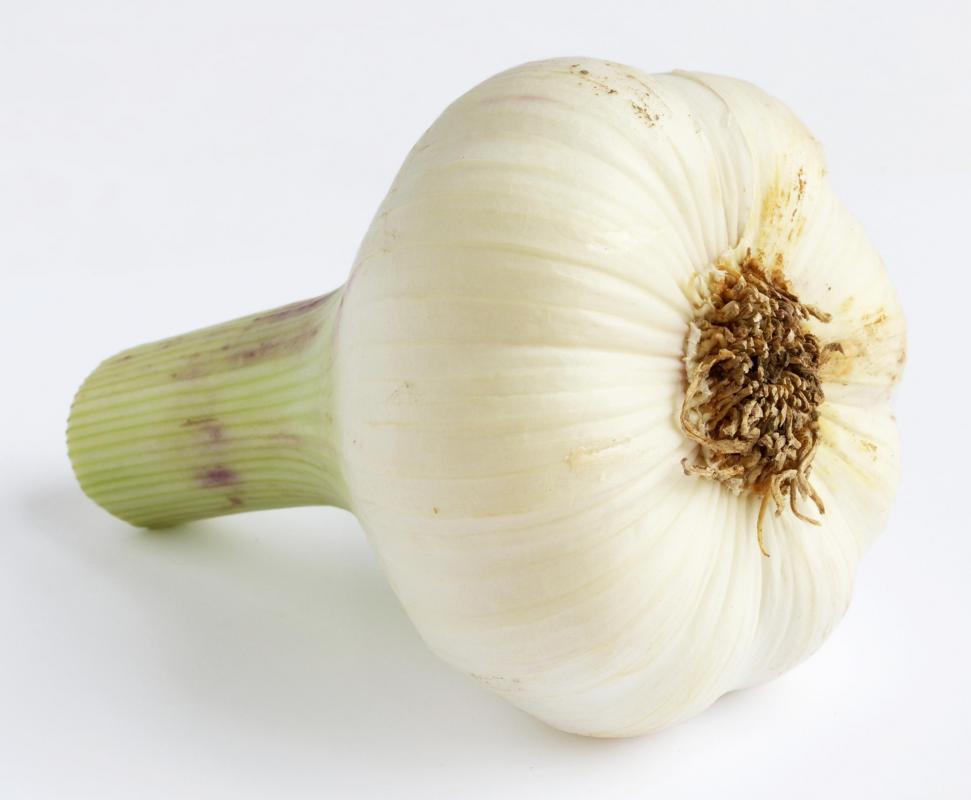 This salt is a great benefit to cooks, since it allows for lots of flavor without imparting extra volume or weight to dishes. For instance, you can use garlic salt in hamburger or homemade sausage mix for additional flavor. You can sprinkle it into stuffing, add it to stews or soups, or put a bit on popcorn. Since it does contain table salt, it's not exactly low sodium in content, and this should be weighed carefully. Should you want garlic taste without the extra salt, look for garlic powder instead, which is made of dried, finely ground garlic, or you can use spray bottles of garlic juice.
Another matter you should consider when using this seasoning is how this might necessitate changes in recipes. A quarter teaspoon (.9 g) of garlic salt contains 240 milligrams of sodium. This is 10% of the US Recommended Daily Allowance (USRDA) of sodium, and may comprise a larger share for those on reduced sodium diets. Table salt in the same amount is 590 milligrams of sodium. Essentially garlic salt is roughly half table salt. If you use garlic salt in a dish, you should lower additional salt in the recipe to reflect this change or you can easily end up with dishes that are way too salty, as well as not too good for you.
On the other hand, if you're using sodium to add flavor to a dish, a salt that is half garlic can be a great alternative because you'll still have lots of flavor, but less sodium content. For instance if you flavor your popcorn with a half teaspoon (.18 g) of garlic salt, you're getting 480 milligrams of sodium, and only consuming 20% of the USRDA for sodium. It can therefore be a great spice to use when you want to reduce sodium in your diet, since you certainly won't miss out on flavor.
You should read labels carefully on this seasoning, since some variants contain MSG, to which many people are sensitive. If you are concerned about preservatives in this seasoning, consider buying organic varieties, which tend to contain more naturally based humectants. Either organic or regular versions can last a long time, and be a great way of making over recipes and adding extra flavor.