What is Eye Makeup Remover?
Eye makeup remover is a cleansing product that quickly and easily removes eye makeup without irritating the eyes. It is particularly effective against long-wearing or waterproof eye makeup. Eye makeup remover comes in many different formulations for convenience and individual preference.
There are many reasons to a remover to take off eye makeup. First, simply washing the face with soap and water may not be effective at removing eye makeup, and it can be painful to get soap in the eyes. In addition, eye makeup that is left on the eyes overnight can cause redness and irritation the next day. Rubbing the eyes to remove makeup can stretch the skin in the delicate eye area, which can lead to wrinkles.
Eye makeup remover typically comes in gel, liquid, or cleansing pad form. It is generally oil-based, though there are some oil-free versions for people who are sensitive. It also comes in hypoallergenic and natural versions for particularly sensitive eyes. In general, however, this type of makeup remover is always designed to be very gentle.
To use a gel or liquid eye makeup remover, it is necessary to first apply the product to a cotton ball or makeup sponge, then gently sweep it over the eye. Remember not to tug at the eyes. It should only take a few sweeps of the makeup remover to remove the makeup completely. Eye makeup remover that comes in a cleansing pad is convenient for travel, because all one needs to do is take a cleansing pad out of the jar and sweep it over the eyes. This type tends to be slightly more expensive, however.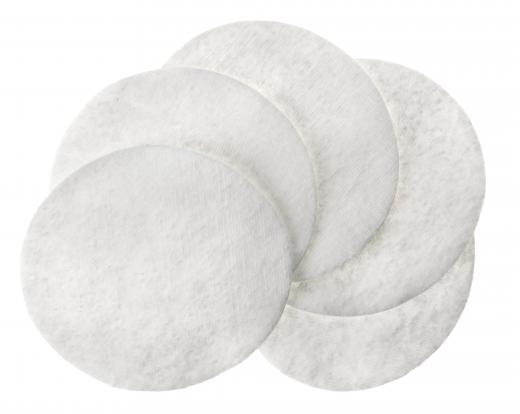 Eye makeup remover may have other beneficial features as well. Some are designed to include ingredients to cool and soothe the eyes, while conditioning the skin. Chamomile is a popular inclusion, as well as olive oil or even milk. Though it may take some trial and error to find an effective yet gentle makeup remover, it is an important addition to other cleansing products for the face. Keep in mind that it should only take two or three swipes to completely remove eye makeup, and there shouldn't be any eye makeup smudged on the eyes when waking the next day; if there is, try a different makeup remover.
This type of makeup remover may also be used for removing long-wearing cosmetics such as lipstick or cheek stain. It is gentle on the skin and should not clog the pores. Some people find also success using baby oil for makeup removal, instead of a designated makeup remover, because it is very gentle on sensitive skin.
AS FEATURED ON:
AS FEATURED ON:

By: haveseen

Eye makeup remover is especially useful for removing waterproof mascara.

By: HamsterMan

Cotton wool pads are used to remove makeup.

By: margo555

Olive oil is non-irritating, making it an ideal solution for removing eye makeup.

By: Emilia Stasiak

Makeup remover may be used to remove eye makeup without causing eye irritation.

By: Africa Studio

Baby shampoo is gentle enough to remove eye makeup.

By: Africa Studio

Eye makeup removers clear the eyelids, lashes, and brows of eye makeup without irritating the eyes.