What Is Eye Makeup Primer? (with pictures)
Eye makeup primer is a cream, lotion, or powder used to improve the performance of eye shadows and liners. Facial primers smooth skin and "prime" it for applying foundations and other cosmetics, but an eye makeup primer is formulated specifically for the eye area. Powder eye shadows and cream eye liners, for example, can wear off quickly if eyelids are either overly dry or oily, and a primer acts to make the lid area smoother and often tackier, or with some grip, so eye makeup stays truer to color and wears longer.
Many makeup primers for the face contain silicone, which kind of sits on top of the skin, allowing makeup to adhere to the primer rather than to sink into any pores and creases of the face. An eye makeup primer adds a layer of silicone-based ingredients or, in organic cosmetic lines, a layer of natural moisturizers or minerals, priming the eyelid by making it smoother and less textured. A mineral or powder primer can be dusted or patted on with a flat brush, while a cream or lotion primer can be dabbed on delicately with a fingertip or cotton swab. Many popular primers come with a sponge-tip wand applicator, similar to a lip gloss, or with a built-in brush within the tube, and some come in pencil form.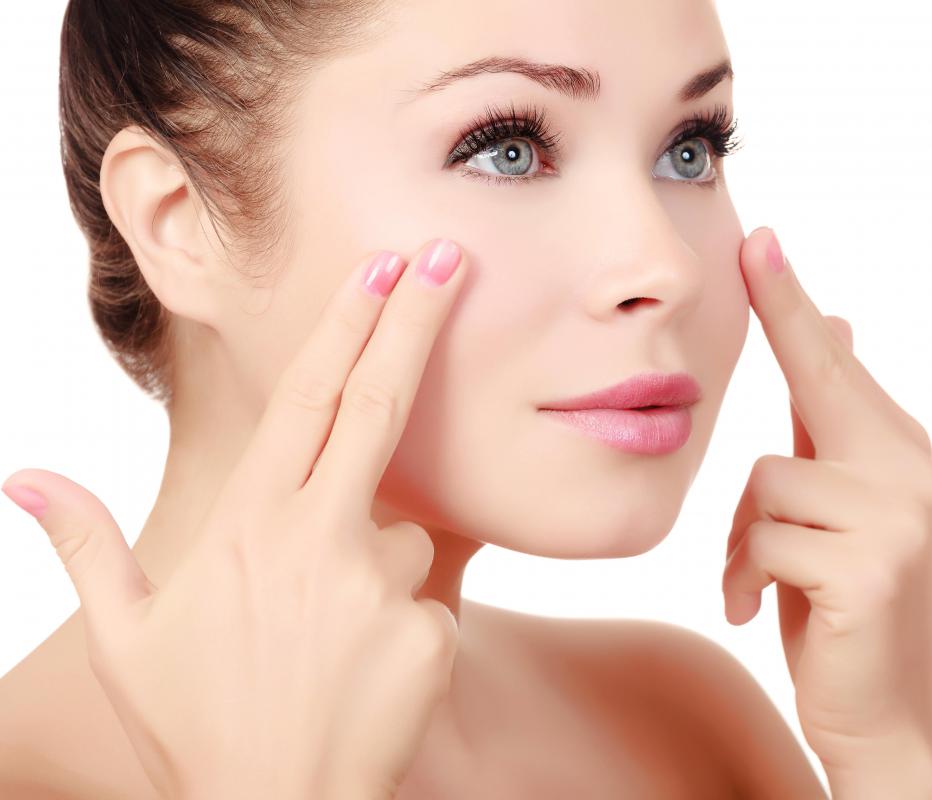 Individuals with oily skin and those who live in humid climates can extend the wear of their shadows and liners by using an eye makeup primer. Applying a thin layer of the primer and letting it dry completely provides a base for more cosmetics. Some primers also can be worn alone simply to brighten the eye area and cover discoloration of the eyelid. Many powder eye shadows have a fall-out effect when applied; the particles of color fall onto the cheeks during application. An eye makeup primer cuts down on this because it generally helps the powder adhere to the primed eyelid better. Often, whether using a powder, cream, or liquid formula, eye shadows and liners will have a truer color and will not oxidize or change color as much during wear when applied on top of primer.
Although many primers are colorless and look similar to ordinary creams and lotions, some have added color to lighten, camouflage, or brighten the eye area. Colors tending toward yellows and warm, buttery golds work well, while those with reddish or pink tones may highlight any redness in the eyes themselves. Most name-brand, high-end cosmetics companies offer an eye makeup primer or even several, and some drugstore lines carry them as well. With a variety of price points and formulas, eye primers have increased in mainstream popularity in recent years, but makeup professionals have long had them in their tool kits for use on models and actors.
Eyeshadow primer can be applied with a makeup brush.

For best results, an eye makeup primer should be used before applying products such as eye shadow, liner and mascara.

Moisturizer should be applied to the eye area at least 10 minutes before putting on makeup.