Elder care is health and personal care which is specifically designed for the elderly. The level of elder care varies, from a live-in facility which caters to older people with special needs to a day nurse who drops in on older patients for a few hours every day. Since older people are prone to special health problems, the people who work in this field typically participate in training programs which are designed to address these issues, ensuring a high level of care.
On the more basic level, this type of care involves looking after older people who may have trouble moving around and getting out of the house. A care service might drop by a few times a week to drop off groceries, deliver other supplies, and help tidy up around the house. The care provider might also pick up letters for mailing, help clients keep track of bills, and generally ensure that someone is healthy and living in a clean, pleasant environment. Even at this level, the care provider provides a very important service: companionship for the elderly.
On a more intense level, elder care may address specific health problems, like strokes, paralysis, memory loss, and other issues which commonly strike older people. A care provider might come by a private home more frequently to administer medications, help an older patient bathe, and perform other tasks to improve an older individual's quality of life. In more serious cases, a patient might require full time care because he or she is physically or mentally incapable of living entirely independently.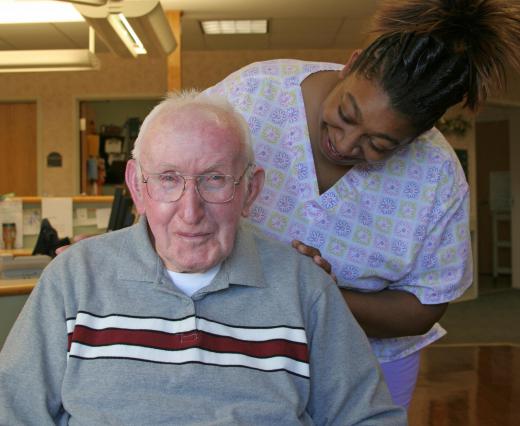 In addition to being offered in private homes, this type of care can also be offered in facilities which are specifically designed for the elderly. These facilities are sometimes known as assisted living facilities, in a reference to the fact that the staff members assist the residents with various tasks. The level of assisted care varies, from relatively hands off care for independent, mobile residents to specialized care for bedridden and seriously injured older patients.
In many cultures, elder care is traditionally provided by members of the family, who keep older family members at home. In industrialized nations in the 20th century, elder care began to shift to care facilities for a variety of reasons. If someone in your life does require care beyond that which you can provide, make sure to assess care facilities carefully. The quality and level of care in these facilities can vary widely, and it helps to look for word of mouth recommendations, along with reviews from elder advocates, to ensure that your older family members receive the care and companionship they need.
AS FEATURED ON:
AS FEATURED ON:

By: Miriam Dörr

Elder care can provide a range of services to seniors.

By: Andrew Gentry

Elder Care includes helpnig elderly who have trouble moving about on their own.

By: Lisa F. Young

Physical therapists might specialize in elder care.