What Is Eggplant Parmesan?
Eggplant parmesan is an Italian pasta dish that uses eggplant instead of a meat element and has a tomato-based sauce. Similar in structure to lasagna, eggplant parmesan is made by layering its sauce, eggplant, and cheeses in a casserole dish, and then baking. This dish is suitable for vegetarians and is often found in Italian restaurants.
In addition to eggplant, tomatoes or pre-made tomato sauce is necessary. When using fresh tomatoes, the fruit is always peeled and chopped before being combined with spices and pureed into a sauce. Plum tomatoes are most frequently used to make the sauce. If homemade sauce is prepared, garlic is usually sauteed, then the pureed tomatoes and spices are added to the pan with the garlic, and the mixture is allowed to cook.
Mozzarella and parmesan cheeses are usually both included in eggplant parmesan. Fresh, sliced mozzarella should be used, and the parmesan is usually high quality and grated before use. Parmigiano-reggiano may be used instead of parmesan for a cheesier flavor.
There are a variety of herbs and spices that can be added to give extra flavor to this dish. Fresh basil, salt, and pepper are almost always included, while oregano is sometimes used to flavor the sauce. Since the eggplant is breaded and fried before being baked, eggs, bread crumbs, and, often, flour are used for the breading. Garlic and red pepper flakes are also frequently used to season eggplant parmesan.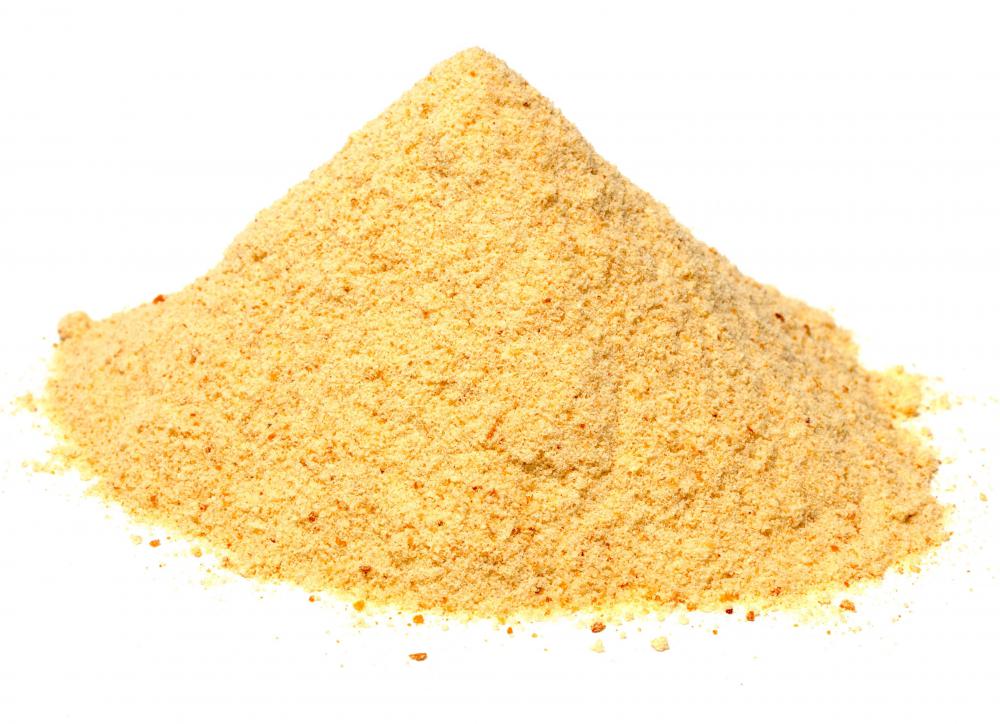 To make eggplant Parmesan, the eggplant is first cut into rounds or long slices, and the pieces are then laid in a colander, salted, and allowed to drain for up to two hours. After it has drained, the eggplant is breaded by dredging the pieces through a series of bowls. One bowl holds beaten eggs and another is filled with breadcrumbs or breadcrumbs mixed with cheese; some recipes will also include a third bowl filled with flour and seasoning. The eggplants pieces are placed first in the flour bowl, if used, then coated in egg, and finally covered in the breadcrumbs. After the pieces are breaded, they are fried in oil until the breading is golden.
When the eggplant is complete, the eggplant parmesan can be created. First, a layer of sauce is placed in the bottom of a casserole dish. Then, some of the eggplant is placed evenly on top of the sauce. A cheese layer follows the eggplant. The layering is repeated one or two more times before sauce and cheese top it. Eggplant Parmesan usually cooks for nearly an hour and is cut into squares or rectangles to serve.
By: Bert Folsom

Most -- but not all -- recipes for eggplant Parmesan include Parmesan cheese.

By: Giuseppe Porzani

Eggplant parmesan is a wonderful alternative to chicken parmesan.

By: Vidady

Breadcrumbs are an ingredient in many recipes for eggplant Parmesan.