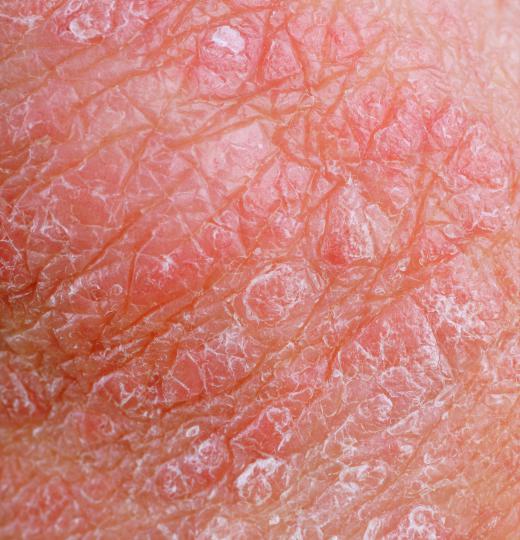 Eczema cream is a product which is designed to be used in the management of eczema, a common skin condition which occurs in people of all ages all over the world. There are a number of different types of eczema cream on the market, ranging from preventatives to creams for eczema relief. Using a cream is only one part of a successful management plan for this skin condition, and chronic outbreaks of severe eczema should be addressed by a doctor. Many eczema creams are available at drug stores, but prescription-only creams can also be obtained for stubborn cases.
This condition, also known as atopic dermatitis, is primarily hereditary. It is caused by reactions to allergens which lead the skin to dry out, developing a flaking, itchy, red rash. Eczema can appear anywhere on the body, and it can sometimes become infected if it is allowed to spread and it is repeatedly scratched or irritated by clothing. Many eczema sufferers find the rash primarily irritating and unsightly, and use eczema cream to reduce the severity of outbreaks. Regular use of a cream can also prevent infections.
Some eczema creams are designed to prevent outbreaks by deeply moisturizing the skin. A regular moisturizer can be used for this, or a special moisturizer formulated for people with eczema may be purchased. It is important to use nonscented, hypoallergenic moisturizers for eczema, as scents could irritate the skin, triggering an outbreak. An eczema cream or salve formulated for prevention may feel slightly greasy when first applied, but the skin will quickly absorb the cream.
If an outbreak is occurring, an eczema cream can be used to reduce the itching and burning associated with the outbreak, and to confine the outbreak as much as possible. Over the counter creams often contain hydrocortisone, and it is also possible to get a prescription cream with more serious steroids to treat the eczema. In the event that an outbreak becomes infected, antibiotics may be prescribed to kill the infection and relieve the uncomfortable symptoms.
In addition to using a topical product to treat eczema, it is also a good idea to find out which allergies are responsible for the rash. It may be necessary to avoid eating certain foods or to refrain from contact with particular fibers to prevent the recurrence of eczema. Working with an allergy specialist can help a patient determine the source of the eczema so that the cause can be avoided. Protecting the skin during very dry weather with a strong moisturizer is also important.


By: quayside

Eczema is a condition where skin may be itchy, red, dry, and cracked.

By: carroteater

Hydrocortisone cream can be applied to eczema to help reduce the redness and irritation.

By: robert mobley

Eczema cream can be used to reduce the itching and burning associated with an outbreak.