Lavender is valued by gardeners and crafters alike for its beautiful purple flowers and unique scent. Dried lavender can be the plant's stems, flowers or buds that have been allowed to dry out as a means of preserving them. The dried lavender flowers can be tied together in bundles called sheaves and used to decorate and cheer the home. Some people like to use them as fire starters for the fireplace, which adds a touch of fragrance to the hearth blaze. Dried lavender also is used in potpourri mixtures, soaps and sachets. Dried lavender intended for cooking should be purchased in a culinary or spice shop to avoid any pesticides that might linger on lavender grown for other purposes. Dried flowers are popular when coated with sugar to make decorations for sweets and cakes, and they can be used in herbal teas and salad dressings.
Some people like to make their own crafts using the dried flowers, and many times these crafts not only look pretty, but they smell good, too. Lavender is frequently used in aromatherapy, including in bath bags stuffed with dried flowers to calm and relax a bather, and stuffed lavender pillows or neck pillows to produce the same effect. Crafters often include lavender in dried wreaths and dried floral arrangements.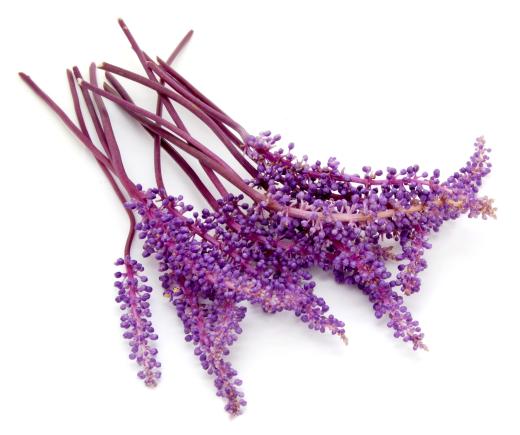 Lavender originated in the Mediterranean, and today much of the commercially grown lavender comes from France. Other countries that grow large quantities include Holland, the United States, Canada, the Netherlands, Spain and Australia. Francophiles and true lavender lovers can make a tasty tea with the dried flowers and sweeten it with lavender honey, exported from France. Unsweetened lavender tea that has been allowed to cool is used to rinse the hair as a dandruff remedy.
The plant is also known as garden lavender, Lavandula angustifolia, Lavandula officinalis and Lavandula latifolia. The herb's essential oil and flowers have been used in lotions, tinctures, extracts, gels and infusions. Aromatherapy relies on lavender's scent to help rid people of headaches and exhaustion. Herbal medicine uses lavender to treat acne, skin problems and wounds. Some people are allergic to lavender, and it can cause skin irritation, nausea and headache.
AS FEATURED ON:
AS FEATURED ON:

By: Kimberly Reinick

Lavender flowers.

By: Daniel Hughes

The scent of lavender can help ease headaches and exhaustion.

By: roblan

Unsweetened lavender tea can be helpful for treating dandruff.